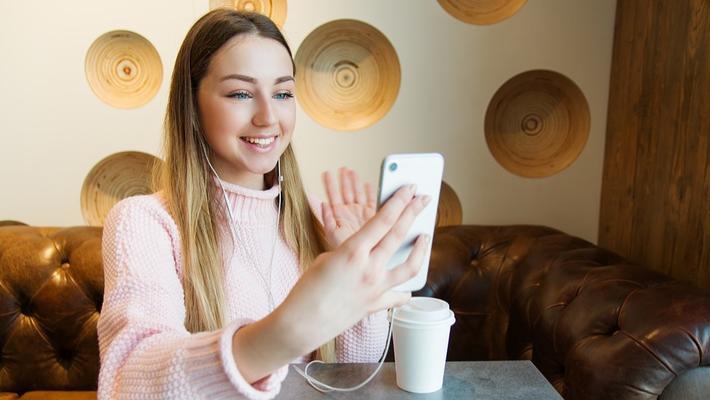 This article comes from WeChat public account: Guotai Junan Securities Research (ID: gtjaresearch)
In 1956, AT&T Labs developed the first videophone, the (Picturephone). This video phone can transmit a picture every two seconds.
In 1964, AT&T installed the earliest commercial videophone equipment in public booths in three cities, New York, Washington, D.C., and Chicago, under the name PicturephoneModI. However, the need for pre-use booking time with AT&T and the high cost of dialing in public booths for $16 every three minutes have greatly limited the appeal of this emerging technology.
AT&T's innovation eventually met a commercial failure, and the company concluded that videophone is a "finding market concept" with no commercial value.
In the late 1970s, Picturephone services ceased completely.
First, history of videoconferencing growth: from analog to digital, from wired to wireless
In the past, they are all prologues.
Despite the failure of AT&T 's analog video conferencing system, technology companies have not stopped their pace of innovation, nor have humans stopped trying to communicate video "as if they were together at any distance."
In the 1970s, due to the emergence of digital transmission, the traditional video conferencing system has been greatly improved, digital signal processing technology has gradually matured, and the research on data compression has produced the core technology of video conferencing products (CODER/Decoder). .
After entering the mid-1980s, the rapid development of large-scale integrated circuit technology, image coding and decoding technology has made breakthroughs, channel costs have decreased, providing a good development condition for video conferencing to become digital and practical.
However, during this period, the digital video conferencing system has been using dedicated coding and decoding hardware and software, requiring that the codecs used by the interworking conference terminals must come from the same vendor, otherwise they will not work properly. Therefore, the scalability and interoperability of video conferencing systems are greatly hindered.
From 1988 to 1992, on the basis of the TV conference of the National Conference, the International Telegraph and Telephone Consultation Committee proposed the unanimous norms of the World Television Conference (H.200 series of claims), and formulated a consistent video online communication form communication specification. It has formed the world's unanimously standardized video conferencing system, which provides conditions for the world video conference.
However, the shortcoming of the mobile video conferencing system in the 1990s is that the connection is fixed. Except that ISDN is capable of dialing, other network applications must perform a point-to-point permanent connection, with low bandwidth utilization, poor openness, and inconvenient setting. .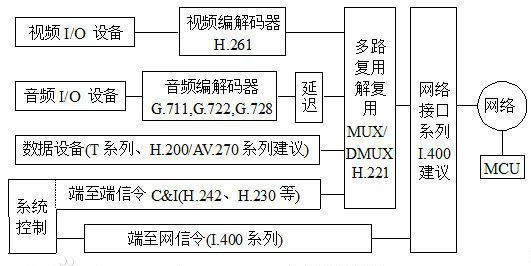 ITU-TH.320 standard set consists of multiple standards, data source: ITU official website
In the late 1990s, with the rapid upgrade of PC, the ability of data storage and processing became stronger and stronger. Video conferencing technology began to develop towards multimedia conference on Internet network.
Second, multi-functional unified communication management platform, entering the era of comprehensive business integration
At present, video conference is divided into two types: cloud video conference and private network video conference.
Cloud Video is a video streaming service based on the concept of cloud computing technology, covering all processes from acquisition to playback, enabling customers to build professional video systems in a cost-effective and efficient way.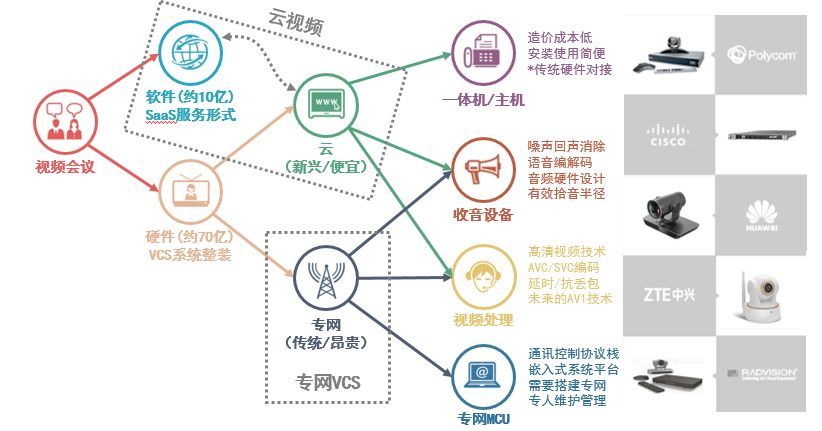 Cloud Video Conferencing is cheaper than Private Web Video Conferencing data Source: Cathay Pacific Junan Securities Research
In the cloud video service process, the video collected by the content provider is first encoded into a specific format, after which the video is uploaded to the cloud server, transcoded in the cloud to adapt to different playback servers, and finally, the video is accelerated via a content distribution network (CDN). Distribute and play in the terminal by decoding.
Cloud Video Services process consists of three steps, data source: Cathay Pacific Junan Securities Research
Corresponding to cloud video is VCS (Video conferphone system), which is a conference TV system. The equipment required is more complicated, and the competition of the manufacturers is more intense. It is usually necessary to set up a private network and professional equipment, that is, a self-built video conference system is required. It requires special maintenance. The customers in this field are mainly governments with high security requirements and some large enterprises.
The traditional VCS video service has more extensive connection with hardware because of its high requirement for hardware equipment, which accounts for a large proportion of sales of hardware equipment. The cloud video service has a lower demand for hardware devices and a relatively cheap price (at present, the price of cloud video products is only 1 / 10 of the price of VCS products), the proportion of hardware equipment is lower, while the proportion of software services is relatively high.
In addition, the private network VCS high security, strong stability, general need to access the special network, more advanced, high-bandwidth conference requirements.

Private network VCS is more expensive and safer than cloud video. Source: Guotai Junan Securities Research
In China, the real realization of video conference business began in 1994 after the opening of the international public video backbone network. In recent years, great progress has been made in the research of video conferencing in China, and a large number of mature commercial video conferencing software emerged.
Small and medium-sized enterprises have a huge number of users, generally on the equipment terminal requirements are lower. This requires manufacturers to provide relatively low-cost products, complete solutions, and high-quality after-sales services. Price will be a key factor in winning the competition.
Third, a variety of scenarios to open multi-tier demand, video conferencing to enjoy the trillions of market
Since 2014, the market growth rate of video industry in China has remained above 30%. It is expected that the market size of video industry will reach 330 billion yuan by 2020.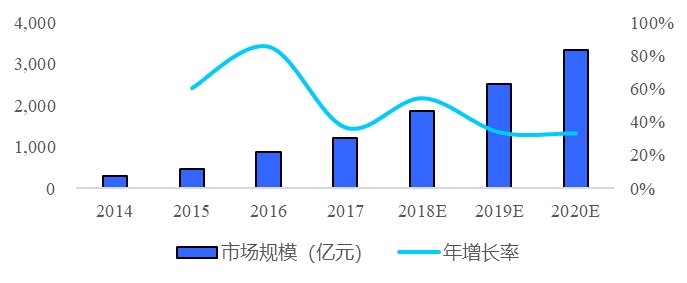 China's video industry market has grown rapidly, data source: iResearch, Guotai Junan Securities Research
From video conference combined with co-operation to promote business upgrade, to high-definition video technology application led to the rapid improvement of conference quality, video conferencing market expanded in an all-round way.
With the advent of the era of triple play fusion, the application of 3D technology will inspire users to use enthusiasm thoroughly, and may replace physical conference, which will bring huge development space for video conference industry.
The deepening of the triple play process and the deployment of 5G networks will further increase the market size of cloud video conferencing. The transmission speed of up to 10Gb/s and the ultra-low latency of 1 millisecond will make cloud video conferencing the mainstream office mode in the future. .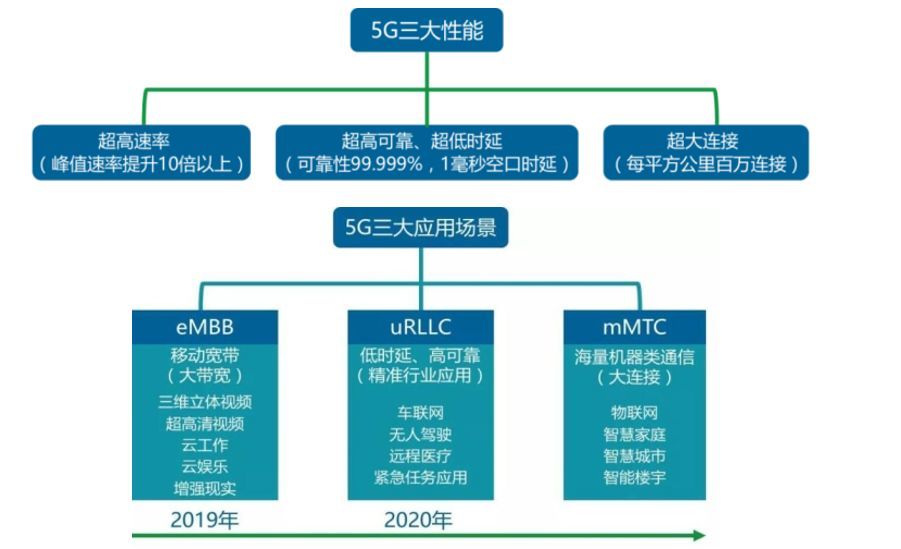 5G ultra-high speed brings demand growth potential to video conferencing industry, data source: Ministry of Industry and Information Technology 5G White Paper, Cathay Pacific Junan Securities Research
Fourth, the demand scene is rich
At present, domestic cloud video is a fast-growing vertical industry. Cloud video application scenario broadened, vertical deep into the various industries to pull up the demand. Cloud video technology enables video communications to expand from conference rooms to individuals, with wider coverage and greater availability, thus providing a powerful boost to the expansion of the video communications business.
Cloud video industry application landing path, data source: Guotai Junan Securities Research
online education
Due to the imbalance of educational resources and the relative shortage, the demand for distance learning is increasing. The application of video conferencing can not only greatly increase the opportunities for students from different places to obtain teaching resources in different places. Real-time two-way interactive teaching and learning also enables distance education. Become as lively and efficient as the classroom.
Streaming media technology in video conferencing is very suitable for distance learning, and the world is vigorously developing modern distance education.
The dual-teacher teaching mode is an educational model combining education and science and technology. It is conducted by a famous teacher on-line distance learning, while another ordinary assistant teacher is responsible for offline interactive tutoring. Two teachers collaborate online and offline. A hybrid teaching model.
In 2017, the market size of the dual-skilled classrooms in China's basic education reached 29.87 billion yuan. Under the background of the two major benefits of private education institutions and the government's vigorous implementation of dual-teacher education and educational resource sharing, the scale of the dual-teacher classroom market will exceed 100 billion in the next few years.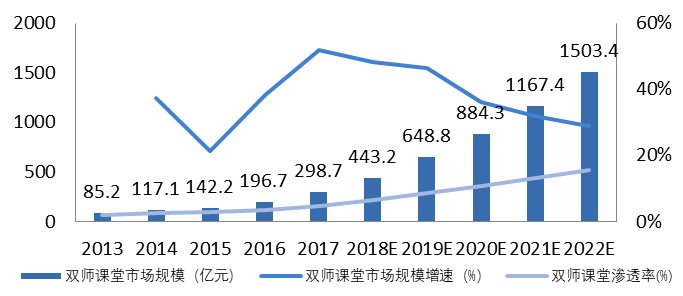 China's dual-class classroom market has grown rapidly, data source: iResearch, Guotai Junan Securities Research
Professional video cloud service providers emerge in large numbers, eliminating the necessary infrastructure costs for teaching institutions to build their own video systems, and greatly reducing investment in development and maintenance; At the same time, with the iterative optimization of the technology, the video quality is clearer, more stable and easier to use.

The impact of video cloud service upgrade optimization on the dual-teacher classroom, data source: iResearch, Guotai Junan Securities Research
Remote grading
Recently, the State Council executive meeting emphasized that promoting "Internet + medical health" is an important measure to promote the development of China's health and health undertakings, and is also a strong driving force for economic and social development. According to the statistics of the China Investment Consulting Industry Research Center, the scale of China's telemedicine market will reach 13 billion yuan in 2018, and the compound annual growth rate will be 27.63% in the next five years.
With the continuous promotion of the new medical reform policy and the construction of digital hospitals, regional medical remote consultation and other key projects have become inevitable.

Promote telemedicine-related policies since 2018, source: health Planning Commission, Guotai Junan Securities Research
Self-built cloud service platform: It adopts Yilian Integrated Video Conference Server (YMS) to support multi-party concurrent conferences, which can be used for live teaching and teaching, and can meet the needs of recording and broadcasting;
Building high-definition video conference room: using VCS series video conference intelligent terminal to build high-definition video telemedicine center to solve the need of remote hierarchical diagnosis and treatment;
Integrate third-party mobile phone software: Doctors at all levels can use the desktop software and mobile APP to quickly access meetings and conduct remote consultations at any time.
Yilian "cloud+end" video conferencing products help Taizhou Hospital promote grading medical treatment. The video conferencing products launched by Yilian Network can meet the needs of the full collaboration of medical institutions and fully and effectively coordinate the resources of various hospitals.
For example, as a model unit for implementing a graded diagnosis and treatment system, Taizhou Hospital integrates medical, scientific research, teaching, and prevention into one, and establishes a three-tiered structure of city, county, and township. Yilian Network's video conferencing products provide a telemedicine solution that meets the remote guidance of primary care, expert consultation, remote communication and training. Nowadays, ordinary people in remote areas such as Taizhou mountainous areas and islands do not have to travel far, and through the Yilian cloud video, they can enjoy the medical services of the top three hospital experts in the township hospitals at their doorsteps.
Party building training
The intelligent network party building has created an advanced technology platform for the construction of the ruling party, and realized the transformation of the grass-roots party building work from "unilateral instillation" to interactive communication. At present, the country has nearly 89 million party members, nearly 4.4 million grass-roots party organizations, the future smart party building is expected to become a new driving force for video conferencing business. Smart party building has developed rapidly in recent two years, and it is a blue sea market in video conference field, and the market space is expected to be vast in the next few years.

The government actively promotes party building construction, data source: State Council, Guotai Junan Securities Research
Learning supervision function, creating a learning supervision mode combining attendance data and camera automatic photo verification, the site attendance data can be uploaded in real time, through the background management page, the street town administrator can view and review all site attendance data and live screenshots; Conference function, the platform can accommodate 500 sites, tens of thousands of grassroots party members and cadres attend the meeting at the same time; attendance check-in function, the deployed attendance machine has two sign-in functions of fingerprint recognition and face recognition, the attendance data is uploaded to the platform in real time; To provide grassroots people with services for online learning and practical technology; information retrieval function to realize the inquiry and retrieval of basic information of party building work; mobile play function, play distance education courseware and cultural entertainment programs.
Fifth, domestic video conferencing industry manufacturers have their own focus
At present, China's video conferencing industry can be divided into two categories: one is the traditional private network VCS video conferencing field, the typical representative manufacturers include Huawei, ZTE, Suzhou Keda, Cisco, etc.; the other is the emerging cloud video. Conference categories, typical manufacturers include Hui Chang Communication, Yilian Network, Xiaoyu Yilian, and Haoshitong.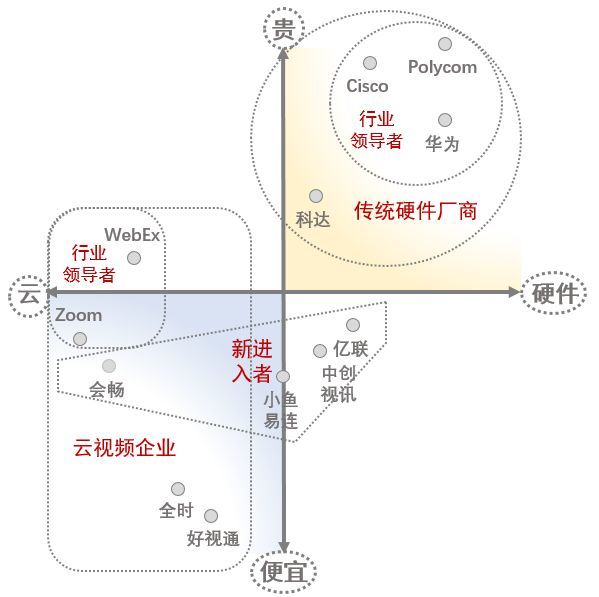 Major domestic and foreign videoconferencing manufacturers, capacity quadrant schematics, data sources: Guotai Junan Securities Research
Yilian Network: Focus on overseas market and domestic enterprise standards
Yilian Network has a brand and channel advantage to focus on the overseas terminal market. The brand effect of Yilian is obvious, and it is frequently developed in the market. SIP voice terminal products have laid a solid foundation for the promotion and channel construction of VCS: a network of highly-licensed authorized dealers all over the world. The company's SIP terminal products are marketed in more than 100 countries and regions, covering 6 continents, and have also obtained certification cooperation with mainstream operators and platforms such as Verizon, AT&T, BT, KPN, Microsoft, and Broadsoft. At this stage, the company has formed a reuse in SIP and VCS applications through its advantages in overseas market channels. In addition, it has further exerted its efforts in the domestic market, focusing on improving the quality of standard products in the enterprise-level market, and closer to users to polish products and develop channels.
Startups: the main operator market, dedicated to industry solutions
According to CCW information, Starnet Ruijie has ranked first in the education industry network solution market for 13 consecutive years. The company has a NexVM synchronous classroom product for the education industry desktop cloud solution. Starnet Wisdom is a subsidiary of Starnet Ruijie, which focuses on converged communications. Videoconferencing system video products account for 70% to 80% of Acer's smart revenue. At present, the wisdom of Star Network mainly uses the platform of operators. The downstream is mainly the government and enterprises. The operators originally have video platforms, and the company will sink the terminals to the grassroots units such as towns and towns in the future to strive for a bigger market. In the next three to five years, the company will follow the trend of the development of mobile government and enterprise networks and work closely with them to gain a larger market share.
Communication: specialize in the market of dual-division industry
Small fish easy to connect: pay attention to the industry market, take into account the "cloud" end "
Xiaoyu Yi Lian is a domestic leader in cloud video conferencing, focusing on innovative intelligent hardware and both cloud platform services. Small fish Yi Lian in technology has far more advantages than the traditional special net video, on the basis of solid technology, the small fish easy to connect the market scale expansion, sales of over 100 million.
263: Focus on enterprise users, conference call and SaaS reuse
Suzhou Koda: take into account the development of video surveillance and video conferencing, from public security bureau, procuratorate, court sinking to enterprise users
Suzhou Keda's traditional business is video surveillance business, and the company has significant advantages in the field of "Snow Project". In recent years, the company has taken into account the development of video surveillance and video conferencing services. The two major businesses have strong coupling and formed benign interaction and technology sharing. The company's traditional customer base is a public inspection law customer. In recent years, the company has expanded its customer base, sinking its business scope, and made significant progress in the enterprise-level market.
Vision Power: Independently develop "vision networking" to provide multiple scene applications
The company specializes in the research and development of related technologies in the field of high-definition video communication. Based on the independently developed V2V communication protocol and related communication technologies, it provides customers with high-definition, real-time, large-scale, two-way and secure high-quality video transmission products and services. Can be widely used in video conferencing, video surveillance, emergency command, demonstration teaching, information release, video on demand, live video and other scenarios.
The above content is excerpted from Cathay Pacific Junan Securities' securities research report "reviewing the third generation of traditional video conference to reveal the ten-mile peach blossoms of cloud video industry". Please see the full report for details of the analysis (including risk tips, etc.). In case of ambiguity as to the excerpt of the report, the full version of the report shall prevail.
* the article is the author's independent point of view, does not represent the position of Tiger olfactory net this paper is published by Guotai Junan Securities Research and authorized Tiger olfactory Network, and edited by Tiger olfactory Network. Please indicate the author's name at the beginning of this article, maintain the integrity of the article (including Tiger sniffing notes and other author identification information), and attach the source (Tiger sniffing Web) and a link to this page. Original link: if https://www.huxiu.com/article/293978.html is not reproduced in accordance with the regulations, tiger olfactory reserves the right to pursue the corresponding responsibility
In the face of the future, you and I are still children, not to download the Tiger Sniff App and sniffing innovation!