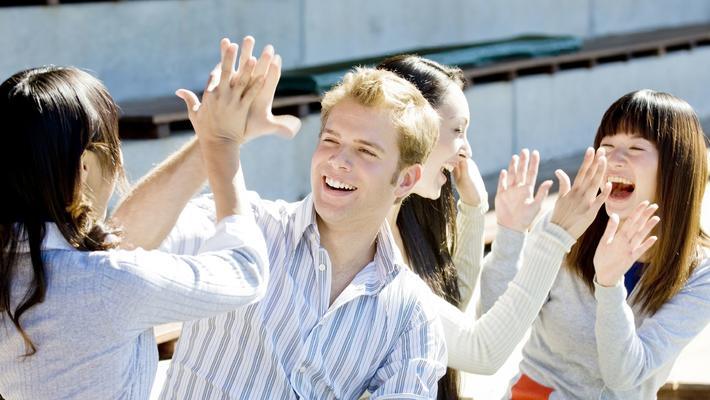 This article from the micro-channel public number: Interface Education (ID: jiemianedu), Author: Dai Mengxin, Editor: Li Yi Peng, head of FIG. Source: Oriental IC
Opening the dark red book, Li Xiao (pseudonym) saw his photo, his name and the seal of the provincial martial arts association. She happily put the "martial arts athlete" certificate with her application materials-a little more likely to get an Offer from an American university. Three months later, Li Xiao got the admission notice and began planning a trip before studying abroad.
In fact, Li Xiao has not participated in martial arts associations, she has not even studied martial arts for a day.
Li Xiao's approach is not a case. In order to apply for foreign universities, some Chinese students have beautified and fake personal experiences, and the study abroad agents have formed an assembly line in order to meet the needs of students and parents. Cheating, taking the test, writing, and buying special skills... In order to meet the tastes of foreign universities, they skillfully create one and another perfect student.
Telling stories becomes a necessary soft powe
According to the latest data released by the Ministry of Education, in 2018, the number of Chinese students studying abroad has exceeded 660,000. Going abroad to study undergraduate is still the most popular choice. The 2018 Open Door Report published by the American International Education Association (IIE) shows that among Chinese students studying in the United States, the proportion of undergraduate degrees is 40.9%, which is more than 36% of graduate students.
How to show yourself and become a compulsory course for entering a famous foreign university.
Unlike graduate students who compete for GRE scores and college GPA points, Chinese high school students who aspire to go abroad for undergraduate studies have to face the admissions rules of "specialty" in addition to their grades.
In addition to the TOEFL, IELTS, SAT and other standardized test scores, the various application materials that showcase their own experiences are very important in the undergraduate application. In the United States, for example, colleges and universities generally require high school transcripts, letters of recommendation, resumes, personal statements, and propositions. Students must fully demonstrate themselves in "subjective questions" such as personal statements and propositional essays.
For high school students who have almost no scientific research results and internship experience, "soft power" such as sports specialties, competition experience, art activities, and volunteer activities has become an indispensable plus item.
"having a sports specialty is a great help to applying to the United States. British universities are very helpful. Famous schools like students with sports specialties very much." Xu Yi, founder of the era of studying abroad, told interface education that equestrian, fencing and other minority sports have become popular among some Chinese students, and going abroad to attend summer school (Summer school) has also become the most popular holiday activity for Chinese students.
The simple enumeration is not enough to impress the admissions officers of the prestigious schools, and it is more attractive to tell them stories.
"This application is not particularly bad, but it is not enough to apply for Stanford University." Xu Wei coached the student to rewrite the application materials, focusing on another experience: the student interviewed a US military pilot in Chongqing Descendants use the oral history to record the story of the US military's support for China's anti-Japanese war during World War II.
"this is the American version of Wolf Warriors." Xu Yi explained that this version of the application material not only reflects the love of students for their hometown and history, but also shows a worldwide vision, which is in line with the taste of Stanford enrollment.
For prospective international students who have grown up in China, it is obviously not easy to master this unfamiliar evaluation system. For a long time, the study agents and consulting agencies have made a positive contribution to the student's application strategy.
From writing a document to buying a specialty
Organizations familiar with foreign school applications know how to package students according to the preferences of prestigious schools. However, when the "filter" of the packaging is getting heavier or even completely distorted, some institutions in the study abroad industry have gradually formed an industrial chain that forges the superior students.
In contrast, writing an application as a "gunner" is a more secure fraud model, which is also an open secret in the study abroad industry.
Zhao Jian, founder of Qingxu education, told reporters that domestic institutions tend to induce students, parents to buy high-priced``all-inclusive'' services, and the application for studying abroad through the whole. After signing for payment, the organization will complete the whole process of preparing and submitting application materials for students.
This set of application materials does not even require students to participate in writing, nor will it be "customized" to show students' own views and views. Zhao Jian told reporters that most of the documents produced by intermediaries are using fixed templates: "for example, if you tell an intermediary to apply to a business department at a university in the UK, the first paragraph of the document received is almost all of them, 'London is a city with a long history'."
The fixed template of the instrument is likely to be completely inconsistent with the student's real situation, but driven by performance, this phenomenon exists in many institutions of study abroad.
A student agent, who asked not to be named, told reporters that a study agent would be responsible for about 60, 000 students a year, with a commission of about 50, 000 yuan for the "American study abroad full package Service," which is usually 3000 yuan. In the face of huge workload and low commission, studying abroad agents are almost impossible, and do not want to spend time tutoring students to write their own application documents, relying on templates to quickly write the most efficient choice.
If parents want the assembly line to look better, some overseas students will also offer a special service: buy specialties.
Zhao Jian said that the purchase of specialties in institutions to study abroad called "have resources." Study abroad intermediary to students, parents hinted that "know people", can forge all kinds of specialty certificates, proof. In addition to providing proof, agents will also "add material" to personal statements and other written descriptions to fabricate students' experience and experience in learning specialties to make these forged specialties look more real.
"Many intermediaries do this kind of fraud because the cost of fraud is too low." Zhao Jian explained that the admissions officers of overseas universities face thousands of applications every year, the cost of verification is high, and there are few telephone investigations. With the interview. For this reason, many domestic study agents have taken risks and produced a batch of students with martial arts and swimming skills.
Overseas colleges and universities
The more common application materials fraud, has aroused the vigilance of overseas universities.
In 2016, Reuters reported that Chinese study abroad institutions, including New Oriental (NYSE:EDU), wrote documents and letters of recommendation for students on behalf of students, suspected of fraudulent applications for studying abroad. A former employee of a Chinese study abroad agency admitted in the report that he had written on behalf of his students: "I know there are moral problems, but this is the business."
The "biggest admissions fraud case in American history" that broke out in March this year became the most famous example. According to foreign media reports, Zhao Tao, chairman of China's step-by-step pharmaceuticals, provided $6.5 million to the illegal study agent William Singh. His daughter, Zhao Yusi, became a "American college entrance examination champion" with sailing expertise and successfully entered Stanford University. After the falsification of the resume, Stanford University immediately expelled Zhao Yusi.
The multiple reports of such media by foreign media have exposed the cognitive differences between overseas universities and the Chinese study market for many years. Most overseas universities require students to complete their own application materials including resumes, personal statements, and propositional essays. Writing, fabricating, or setting templates are considered serious cheating. But for Chinese students who have no overseas life experience and are better at standardized tests, writing paperwork is the weakest link.
Overseas colleges and universities no longer easily believe in excellent resumes from Chinese students, and counter-measures for packaging, cheating and fraud have been introduced.
Hong Kong, South Korea and other test sites canceled many exams due to possible cheating. The SAT and the TOEFL test have joined the sound test in recent years, and the consistency check of the sounds of several exams of the same name is carried out to prevent the test, and the same voice will be detected in the spoken test of different names.
The enrollment departments of foreign colleges and universities have also added audit levels. In addition to hiring third-party audit materials, many prestigious schools have been holding interviews in China in recent years.
Xu Wei told reporters that in addition to Stanford University, Yale University, Harvard University and other top US universities are interviewed in China. Take Harvard University as an example. The interview usually lasts for 1.5 hours. The interviewer will not only check the student's own materials, but also ask specific details during the interview, leaving little room for fraud.
"the interviewer asks questions that can't be prepared at all." Xu Yi, for example, said in the application material that he loved classical music, and the interviewer might play a Chopin serenade on the spot, asking students to identify which section of the score. Some students mentioned St. Peter's Cathedral in their applications, and the interviewer asked questions in detail about architectural style, history, and so on.
Once found to be fraudulent, the punishment for Chinese students is not just a rejection. Zhao Jian said that many foreign schools have begun to exchange news. If a university finds a student applying for material fraud, other schools will also get news to black out the student in the application system.
"perfect person setting" is not the optimal solution
Chinese students who enter foreign colleges and universities in the exaggerated packaging of institutions are facing the cost of being "perfect".
Li Chun, founder of coconut students who are engaged in studying abroad, found that many Chinese students with high scores in TOEFL, IELTS and SAT were unable to complete their daily homework after studying in foreign universities.
Li Chun said that many Chinese students have accepted the "full service" promoted by the institutions of study abroad when preparing for language examinations in China: "The organization will arrange supervision and teaching assistants, formulate learning plans for children, supervise children to do problems, and even arrange special personnel to accompany students. word."
Li Chun believes that these students who have been arranged by the institutions of study abroad have scored high marks, but in fact they lack the ability to read and write. They are difficult to cope with in English discussions, speeches, essay writing and other issues in overseas study.
Even if they enter the right school, these substandard Chinese students are likely to be discouraged by demanding overseas colleges and universities.
The Houren Education Group has released a report saying that in 2013, 8,000 Chinese students studying in the United States were expelled from American universities, accounting for 3.5% of the total number of Chinese students in the United States. The China Study Abroad Development Report (2017) published by the Global Think Tank (CCG) shows that the main reason for the dismissal of Chinese students is academic performance and academic dishonesty.
For these Chinese students who are sent to foreign colleges and universities, but face the danger of dissuading, there are all kinds of tutoring after studying abroad.
Domestic study institutions have begun to set up branches in the United States, Canada, Australia and other places, and overseas education companies also provide services to Chinese students who have already left the country. In addition to English and professional training, these companies also provide cultural adaptation and psychological counseling. This kind of "post-study service" has become a new investment enthusiasm. According to the report released by the Prospective Industry Research Institute, the scale of this new market segment may reach 100 billion.
Saving Chinese students on the verge of dismissal has become another business opportunity for studying abroad, but the process of studying abroad has become the whole process of "arranged". According to the survey conducted by New Oriental 2019 White Paper on studying abroad in China, the ability to solve problems independently is the most important quality for foreign students. Before going abroad, the "Chinese style of studying abroad", which also relies on the help of others after going abroad, may greatly discount the promotion brought about by studying abroad.
"This may be a time point worthy of reflection. Let the children accept the international education for what it is." Li Chun said, "We should provide real education, not to help get out of all the outsourcing services."
* The article is an author's independent point of view, does not represent the position of the tiger sniffing net. This article was published by the interface education © Authorized by Huwei.com and edited by Tiger Sniffing. Reprint this article, please indicate the author's name in the text, keep the integrity of the article (including the tiger sniffing and other authorship information), and please attach the source (Hua Sniff Network) and this page link. Original link: https://www.huxiu.com/article/299376.html If you do not follow the rules, Tiger Snake reserves the right to pursue the corresponding responsibility
In the face of the future, you and I are still children, not to download the Tiger Sniff App and sniffing innovation!
Alternative Chinese style studying abroad one perfect person packing assembly line