The 2019 Tencent Global Digital Ecology Conference will be held from May 21st to May 23rd at the Dianchi International Convention and Exhibition Center in Kunming. On the morning of May 22nd, the smart medical specialization with the theme of "Chi-Chi Medical to Health" was launched. As a medical and health field closely related to people's livelihood, what kind of medical innovation "black technology" will Tencent bring? How to help digital upgrade of the medical industry? What "temperature" changes have occurred in medical services assisted by science and technology? Let's take a look at the four new "new" points of the smart medical specials.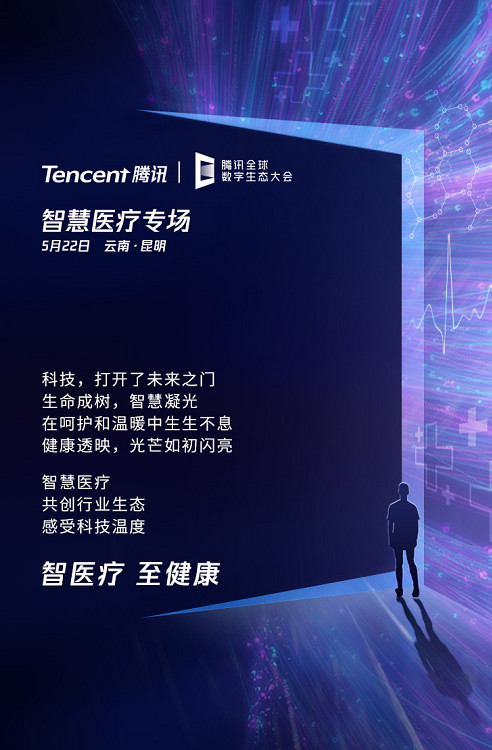 new trend:
Behind the science and technology, how can unexpected innovation and technology improve the "temperature" of medical care?
With the integration of more and more high technologies such as big data, artificial intelligence and sensing technology in the medical industry, medical services are moving towards real intelligence, and quickly enter the lives of ordinary people. Ai medical imaging analysis, AI assisted diagnosis, AI sports video analysis, AI pathological analysis and other innovative technologies are constantly opening up the new boundary of intelligent medical treatment, more high-quality, efficient and safe medical treatment is gradually realized. Will it be far from when AI becomes a doctor's assistant, a management helper, and a health housekeeper? How does science and technology help to build intelligent hospital, intelligent health management, intelligent medical science popularization, intelligent medical information security and so on? Adhering to technology is for the sake of good technological values, Tencent will also bring about technological breakthroughs for medical treatment "heating up"? What unexpected innovation and technology have come to your side? What other possibilities are there to be expected in the future?
New practices:
"Tencent Miying" next city, AI breakthrough new diseases to help find early carcinogenesis?
Since August 10, Tencent's first AI product in the medical field, "Tencent 觅影" has been officially released, "Tencent 觅影" has realized oesophageal cancer, pulmonary nodules, and diabetic retinopathy using AI medical image analysis. Early screening for diseases such as colorectal cancer and breast cancer, using AI auxiliary engine to assist doctors in identifying and predicting multiple disease risks.
In this smart medical special session, "Tencent 觅影" will officially release the latest disease AI-assisted diagnosis system. In response to this world's only malignant tumor that can be prevented and cured, "Tencent 觅影" will help doctors discover early cancer. What is this disease? How will "Tencent Shadows" help doctors improve the accuracy of screening diagnosis?
New benchmark:
China "Internet medical health" excellent case selection, who will spend?
In recent years, new business type, a new mode of "Internet medical health" service, has flourished. Artificial intelligence and big data have accelerated their popularization and application, in order to facilitate the masses to see a doctor and seek medical treatment, and to improve the quality and efficiency of medical services. Promoting the reform of medical industry has played an important role in forming actual combat experience under the new round of medical reform.
Which is the "Internet + medical health" practice? In order to summarize and innovate the model of health care industry and promote the construction of healthy China, at the beginning of this year, the People's Daily National Party Media Information Public Platform and Health Times and Tencent Company launched the 2018 China "Internet + Medical Health" excellent case collection activity. After the event collection, expert preliminary review, final review and online voting, the event selected the "Top Ten Smart and Convenient Medical Health Service Cases" and "Top Ten Technology to Help Medical Health Innovation Cases". Which practices are highlighted and listed? The award ceremony will be announced and held at the meeting.
New ecology:
In the "smart+" era, how does Tencent help the industry to create a digital healthcare ecosystem?
Today, great changes are taking place in medical care: patients experience more convenient mobile medicine, doctors use more intelligent assistants, medical institutions are rapidly moving towards intelligent transformation, and digital medicine will usher in a new "butterfly change" in the "intelligent" era. What opportunities and challenges will the medical industry face in the wave of global industrial upgrading? After Tencent fully embraces the industrial Internet, what role will Tencent play in promoting the digital upgrading of medical treatment, and what new possibilities will Tencent play for the construction of digital medical ecosystem? At the meeting, Tencent will release a new generation of digital health care industry policy research report, and explore symbiosis with partners to create and share new business type.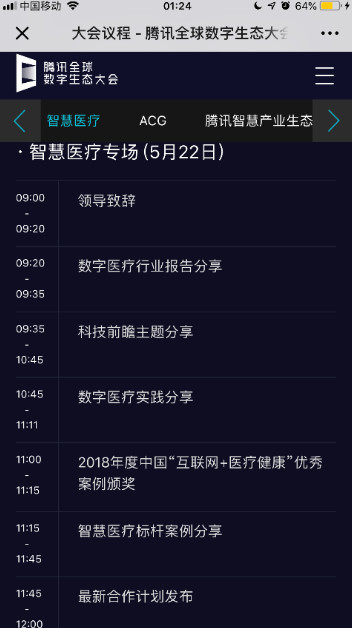 (2019 Tencent Global Digital Ecology Conference Wisdom Medical Session)
The theme of "Intelligent Medical Care to Health" may already be able to "take a look" at Tencent's thinking on the above questions, and more wonderful answers will be presented at the 2019 Tencent Global Digital Ecology Conference. At that time, Ding Ke, vice president of Tencent, will deliver a keynote speech at the main forum to share the exploration and practice of the digital upgrading of the medical industry assisted by science and technology. The special field of intelligent medical treatment focuses on the topics of digital medicine, artificial intelligence medicine, intelligent convenience service, excellent cases of scientific and technological innovation and application, medical health digital ecology and so on. This paper discusses how to innovate and connect the "wisdom" of the Internet and the "needs" of the people's health, and to share the latest achievements and industry development of Tencent and its industrial partners in the field of Internet medical health.
Circle focus Tencent Global Digital Ecological Congress bring Wisdom Medical treatment