Sina science and technology news on the afternoon of August 21, yue Wen group ( 00772.hk ) rose 9 % on Tuesday. by the end of the day, the stock price had risen 4.5 hong kong dollars to 54 hong kong dollars, with a total market value of 48.947 billion hong kong dollars.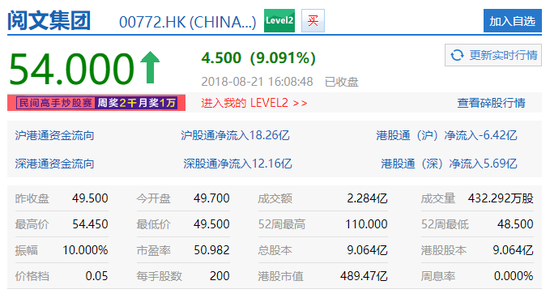 A few days ago, the group announced that it would not buy more than 15 billion 500 million yuan to acquire the new Li media. The deal did not gain market recognition as the takeover price was higher than expected. On the same day, the closing price of the company was 67 HK dollars per share, and the next day it plunged 17%. On the 4 trading day after the announcement, the reading group's market value evaporated nearly HK $20 billion.
However, today's closing price was lower than yesterday's (20th) closing price of HK$49.5/share, which was a significant increase, close to the issue price of HK$55/share. After the plunge, it showed a warming trend.
Read Wen Group Stock Price Tuesday close up 9% up to HK $54 close issue price