On the morning of July 11, a few days after Tesla completed a record quarterly delivery, the company sent an internal email saying it was prepared to increase production at its California car plant and re-enter the recruitment model.
Tesla Motors President Jerome Guillen wrote in an email on Tuesday that the electric car manufacturer is "preparing" to increase production at its Fremont, California plant. "Although we can't say too specificly in this email, I know that you will be happy with the upcoming development."
Although Tesla CEO Elon Musk announced several rounds of layoffs in the past year, Gillen told employees in an email that Tesla is hiring.
"As we continue to increase production, please tell your friends and neighbors that we have a lot of exciting new job openings, whether in Fremont or at the Super Battery Factory," he wrote.
Tesla shares rose 3.85% on Wednesday to close at $238.92.
The Tesla spokesperson did not immediately comment on this.
The increase in production plans shows Tesla's confidence in the sustainability of Model 3 demand. Model 3 delivered a record 95200 vehicles in the second quarter.
This cheap car gradually helped Musk to offset the downturn in the Model S, which went into production in 2012, and the Model X, which began mass production in 2015.
Model 3 delivered 95200 vehicles in the second quarter, driven by Model 3 sales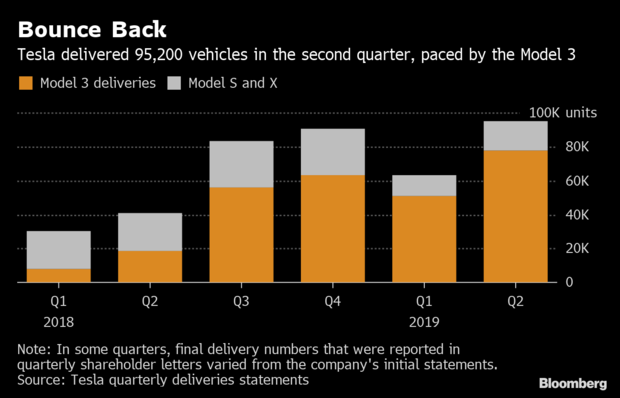 Musk this week quelled speculation that the ModelS and X are about to launch an "updated version," saying the two cars will "have only a series of minor changes under way."
Tesla delivered a total of 17650 Model S cars and Model X cross-border cars in the second quarter, down 21 percent from a year earlier.
As of Tuesday's close, Tesla's share price has fallen 31% this year.
Disappointing delivery in the first quarter, coupled with market concerns that the cheaper Model 3 is eroding the sales of the higher-margin Model S and Model X, has hampered the company's earnings.
Optimism
But as Musk insists that Tesla does not have a demand problem, Gillen expressed optimism in his letter to employees.
He wrote that the company, including factories in California and Nevada, had "set new records for production and efficiency on all production lines" and "reached record highs in quality" in the most recent quarter.
Tesla said the company plans to produce "significantly" more than the official forecast of the number of cars - they previously expected to deliver 360,000 to 400,000 cars in 2019.
The company told shareholders in April that if its Shanghai plant could reach "production" at the beginning of the fourth quarter, global car production could reach 500,000 this year.
Gillen wrote in his email that several parts of the Shanghai factory were in place. "China's stamping, bodywork, paint and assembly lines are progressing well, setting a record in both design and manufacturing," he said.
Recruitment and disclosure
Gillen urged employees to announce the news that Tesla is hiring in the mail, which may be a bit of a surprise. After all, Musk announced about 7% and 9% layoffs in January and June 2018, respectively.
However, although the email did not mention this, but Tesla is developing a new car, may increase employee demand. Musk said last month that the company could make Model Y in Fremont, a smaller cross-border car than the Model X.
Gillen also reminded employees at the end of his email that they should avoid revealing the message to the public.
"do not share company information via email, Instagram,Facebook or Twitter. Leave this to Elon! "once this information is made public, please feel free to forward your voice and share it on IG or FB," he wrote.
Tesla demand optimism planning promotion production capacity restart recruitment model