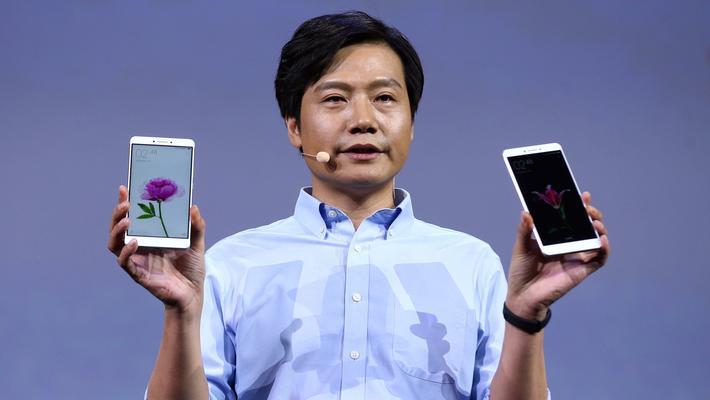 This article is from WeChat official account: interface News (ID:wowjiemian), author: Fang Yuanjing, Sun Wenhao, head picture from: Oriental IC
Xiaomi once again fell into a dilemma.
"double the number of investors who buy Xiaomi shares on their first day of listing." on July 9, 2018, Xiaomi listed in Hong Kong as the first stock to "share different rights," Lei Jun said at the venue.
In the past year, Xiaomi's share price has been shackled.
Last year, after the listing of Xiaomi on the HKEx, the market value once reached $6.4 billion. But by the year, Xiaomi's share price fell to a minimum of HK $8.9 per share, with a market value of only $274 billion.
This is clearly not what Lei Jun expected.
And all this happened in the case that Xiaomi's earnings continued to be good, what happened to Xiaomi?
First, half the market value, double the anxiety
Lei Jun has always insisted on the argument that Xiaomi will not be listed within five years.
What eventually changed him, in addition to being accountable to shareholders and employees, was that, at the time of the cold winter of capital, Xiaomi's high valuation would be difficult to secure and it would be difficult to find a bigger fund to take over if it were not listed in 2017.
In the end, Lei Jun and the Hong Kong Stock Exchange have finally broken the rules of Hong Kong's "shared shares" and became the first share of "shares with different rights" that management can still control the company after listing.
A year later, the crisis emerged. At present, when the market value of Xiaomi is higher, it will evaporate nearly 200 billion Hong Kong dollars. This makes it difficult for shareholders who hold Xiaomi stocks and old employees who follow Xiaomi from the start-up period to show a satisfactory smile.
At present, the fluctuation of Xiaomi's stock price will continue for a period of time, and may usher in greater risks. On July 9, Xiaomi ushered in the second limited sale period of the first anniversary of listing, involving 4.387 billion Hong Kong dollars. Shares, accounting for 25.34% of the total B shares, accounting for 18.25% of the overall share capital (A and B).
The group involved 2.711 billion shares (15.69 per cent of Xiaomi B shares) held by Chenxing Group and shares held by Liu de, Hong Feng and Li Wanqiang, three of Xiaomi's co-founders, who accounted for about 9.65 per cent of Class B shares.
The capital market is heart-wrenching.
Once the ban is lifted, Xiaomi's share price is likely to continue to fall. Chenxing Group has been Xiaomi's most powerful supporter, investing in Xiaomi since 2011 and has been involved in Xiaomi's A to C round financing, with preferred stock costs as low as $0.1, $0.41 and $2.09 per share.
As an investment institution, holding shares for eight years is enough to see its patience, if Chenxing Group withdraws at this stage, it will have a huge impact on Xiaomi's share price.
What's more, there is a DST's foresight: In January 2019, when the lifting period was reached, DST reduced its shareholding ratio from 9.25% to 4.99% through "turnover", and reduced its position by 594 million shares, worth HK$6 billion.
At present, the industry is nervously watching the next developments of Chenxing Group, but Lei Jun, who is used to planning in advance, is clearly reluctant to stand idly by.
In order to stabilize the stock price, Lei Jun has reached an agreement with the senior team to trade stocks through a high-level meeting and explain why stocks are traded without permission, a person familiar with the matter told Interface News. "No, no, no.
In addition, in an effort to appease institutional investors, Lei Jun and Xiaomi CFO week also promised not to sell their holdings for the next year when some of Xiaomi's shares were lifted for half a year.
But outside the top, there are more middle-level employees who are so anxious.
An internal Xiaomi employee calculated an account for Interface News, assuming that his shares were worth 10 million yuan on the day of the listing, until HK $9. 5 per share was lifted, leaving only 5.6 million yuan, paying 45 percent more taxes and ending up with less than 3 million yuan.
"This is equivalent to a three-fold discount." The employee said.
Despite this, many employees still choose to leave as soon as possible.
Xiaomi entrusted the nuclear securities to hold employee options. The situation of the stocks held by the securities reflects to some extent the exercise of options and cash out of Xiaomi employees.
Nuclear Securities held a total of 270 million Xiaomi shares, injected 18 times in the first half of 2019. But on January 8 and January 11 alone, there was a massive reduction of 38.7 million shares and 83.37 million shares, respectively, mainly because Xiaomi employees lifted the ban for the first time in January and sold off their holdings for the first time.
As of July 8, 2019, Nuclear Securities held 58.6 million shares, accounting for only about 22% of the highest value. This means that nearly 80% of employees' bonus shares held by Nuclear Securities have been thrown out by Xiaomi employees.
Xiaomi employees need five years to exercise their rights, 40 percent in the first two years and 20 percent a year for the next three years, with an exercise price ranging from $3.44 a share, a Xiaomi employee told Interface News. As a result, some employees' stocks have even been locked up.
Xiaomi still wants to maintain a decent face. Since May 27, Xiaomi has conducted nearly 20 stock repurchases, and only 14 stock repurchases were conducted in June. As of July 3, its total repurchase was HK$105 million, with an average price of HK$9.64 per share, valued at nearly HK$1 billion – despite this, Xiaomi did not raise its share price to more than HK$10 per share.
But the strange thing is that although the stock price has continued to fall, Xiaomi's financial report data is not bad.
It's hard not to wonder what happened to Xiaomi this year.
Second, the depth of the crisis
This is perhaps the biggest crisis that Lei Jun has encountered today.
"Winter is coming, and in 2019 we are about to face the most serious challenges, and there is no room for blind optimism." Lei Jun said at Xiaomi's 2019 annual meeting, "this winter, everyone has a hard time."
Halfway through 2019, but Xiaomi has not yet embraced the dawn of spring.
The most serious problem comes from the mobile phone business that Xiaomi is proud of. The question that has never stopped from the market is: Xiaomi has always been the mainstay of using hardware to exchange income and traffic, and relying on Internet services to make money, can it be passed?
Interface reporters sorted out Xiaomi's 2018-2019 earnings results and found that Xiaomi's revenue growth had actually slowed since it went public, falling from a peak of 131 percent to 27.2 percent, mainly due to lower smartphone revenue.

Interface news collated according to Xiaomi's financial report data
As can be seen from the chart, Xiaomi's revenue from the Internet accounted for only 10 percent of the total revenue by the first quarter of 2019, an increase of only about 1 percent from the quarter, mainly due to the slowdown in smartphone revenue and the growth in Internet services revenue itself.
In addition, Xiaomi Financial Report disclosed that the number of IoT devices connected to the Xiaomi IoT platform reached 171 million units in the first quarter of 2019, a year-on-year increase of 70%.
But the proliferation of IoT users has not significantly improved the Internet revenue for Xiaomi. A "At present, the capital market is patient with poor patience." of the securities industry said to the press that the "More intuitive revenue conversion is needed to enhance confidence in the Xiaomi business model, and Xiaomi needs to prove how to make money from these users."
As the main source of income, mobile phones are also in dire straits. Xiaomi's shipments in the domestic market grew negatively since the third quarter of 2018, with Xiaomi's global market share down 10 percent in the first quarter of 2019 from a year earlier.
In sharp contrast to Xiaomi, Huawei and vivo have seen 50 per cent and 24 per cent growth in global market share from a year earlier. Moreover, vivo shipments are in line with Xiaomi, which is likely to squeeze Xiaomi out of the top five in the second quarter of 2019.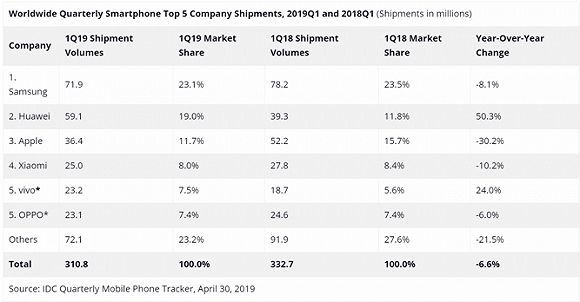 IDC data
In addition, Xiaomi significantly reduced the frequency of mobile phone releases in 2019 compared with 2018.
According to interface news collation, Xiaomi released a total of 16 mobile phones, including red rice, in 2018. But now in more than half of 2019, Xiaomi has released only Xiaomi 9 and Xiaomi 9 SE, millet cc and Xiaomi cc 9e, while the independent Redmi has released Redmi Note 7 and 7 Pro,Redmi K20 and K20 Pro, and Redmi 7A.
The reduction in the release of models is related to Xiaomi's high inventory.
According to the financial report, as of December 31, 2018, the value of finished products held by Xiaomi was as high as 19.1 billion yuan, more than double the 8.4 billion yuan in the same period of 2017.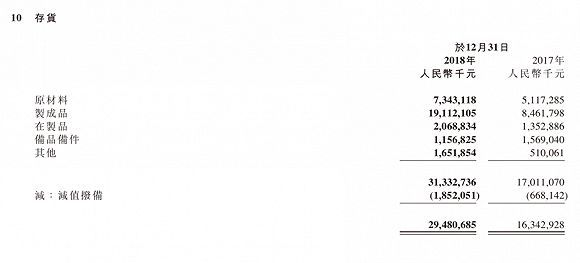 The picture comes from Xiaomi's financial report.
Huge inventories recreate the 2015 Xiaomi crisis, even worse. In the fourth quarter of 2018, its turnaround days reached 44 days.
Excessive inventory will cause Xiaomi's cash flow to be suppressed, further affecting the investment in R&D and stock preparation, forming a vicious circle.
Even with such limited income, Lei Jun is still trying to maintain the final dignity of Xiaomi's share price.
Xiaomi has made 21 share buybacks in the past year, with a total value of about HK $1.175 billion and nearly 123 million shares, accounting for 12 percent of 2018 net profit, but this has not had much positive effect on share prices for the time being, the company said.
Although Xiaomi's Internet business has a high gross margin, "this business accounts for only about 10 percent of Xiaomi's total, and the existing business structure is still based on hardware," a Hong Kong securities industry practitioner analyzed to the interface news reporter. His advice to investors is to wait until Xiaomi can prove his profitability before buying shares.
Third, Lei Jun's All-in:15 personnel Adjustment and double Strategy
"Frequent adjustment" is the key word for Xiaomi this year.
From July 23, 2018 to July 1, 2019, Xiaomi carried out 15 personnel adjustments.
The main direction of these structural adjustments mainly revolves around China sales, international business, mobile phone research and development and other departments, are Xiaomi feel the crisis at this stage and urgent need to adjust and upgrade the business.
It is worth noting that Lei Jun is responsible for and deeply involved in 15 departments. In order to encourage new business backbones, the general managers of 10 new businesses established in September 2018 can report to Lei Jun; The Internet business and technical committees are the most concerned businesses of Lei Jun, and they also report to Lei Jun.
Since May 2019, Lei Jun has personally been responsible for the business in China, and former president Wang Chuan has been transferred to the position of president of the home appliance business.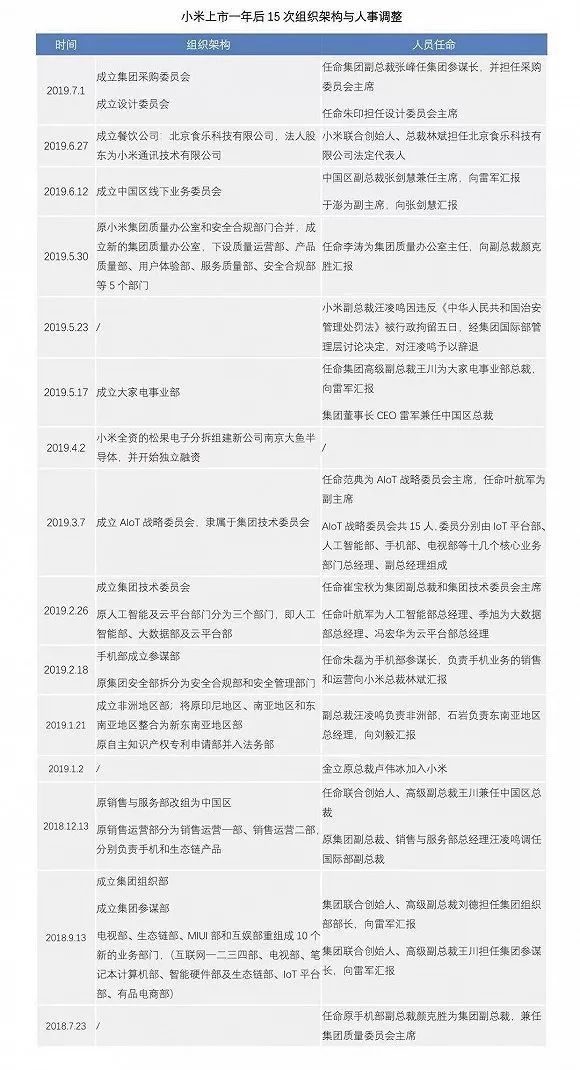 Interface news
It is not the first time that Lei Jun's personal strength and courage to go down the front line. In 2015, when Xiaomi was in crisis for the first time, Lei Jun personally seized the supply chain and mobile phone business.
Li Ming, the founder of Xiaomi, recalled with the interface journalist, that time Lei Jun``sometimes had swelling face, black eye is very obvious'' .
At that time, Lei Jun personally went to the off-line sales point of the third-tier cities, talked about strategies, discussed the method, and made the whole middle-level cadres turn a job in the sales department. In 2016, Lei Jun frequently went to India. It was a week or two.
Xiaomi India general manager Manu Jain recalled that if Lei Jun arrived in India after 1: 00 in the morning, he would meet him after 2: 00, and then they could discuss it until 6: 00 in the morning.
The current Lei Jun, with its many supervisory matters, seems to be fighting more than 15 years. He has also served as Chairman of Xiaomi, CEO, President of China, and founder of Shunwei Investment. Lei Jun once said in an interview with CCTV that he ate an average meal in 3 minutes and opened 11 meetings a day.
In addition to personnel structure, brand and strategic adjustments, Xiaomi this year's movements are also quite frequent.
In January 2019, Lei Jun changed Xiaomi's triathlon (hardware new retail Internet) business to "mobile phone AIoT" and said Xiaomi's AIoT sector would invest more than 10 billion yuan in the next five years, accounting for 1% of the total revenue.
AIoT card 5G, Lei Jun believes that with the arrival of the 5G era, and the business of nearly 100 eco-chain companies invested by Xiaomi Ecological Chain, its equipment is connected to nearly 150 million units, and these data will become the future treasure of Xiaomi.
But the potential risk is that there is always a certain degree of interest and interaction between the hardware eco-chain enterprises and Xiaomi.
In September last year, one of Xiaomi's ecological chain companies, Yunmi, went public, but this company has been unable to get rid of the label of "Millet Foundry". In addition, according to Yunmi's prospectus, although Yunmi's income and profits grew rapidly, the cash flow was negative 17.8 million yuan.
The reason is that more than half of Yunmi's main income comes from Xiaomi. In order to obtain an independent brand image, Yunmi accelerated the expansion of the product line and attempted to differentiate itself from the Mi family in terms of smart home. In 2016, Yunmi opened 17 product lines and in 2017 further opened 18 product lines.
These product lines mainly revolve around kitchen, bathroom and other scenes, and the products coincide highly with the products provided by Xiaomi AIoT's main platform, Mijia.
For these enterprises, this has some meaning of "becoming Xiaomi, losing Xiaomi"-if the ecological chain enterprises want to survive, they need to rely on Xiaomi's huge sales channels; but if they enter the stage of seeking independence, they also need to fight with Xiaomi head-on in the battlefield of household appliances and consume each other.
This is the status quo of most Xiaomi AIoT strategic ecological chain enterprises. In fact, some ecological chain enterprises and Xiaomi will also choose other partners such as JD.com after some ecological chain enterprises and Xiaomi cooperate, "of course, with Xiaomi behind their backs," the person said. Such a situation is common, the person said.
For these companies, sales on the Xiaomi platform can only guarantee sales, but must accept the low gross profit requirements of Xiaomi, and sacrifice a certain profit. "If an eco-chain company wants to develop independently and make money from Xiaomi, it is very difficult," the source said.
Fourth, how to prove Xiaomi?
Fatigue and anxiety are Lei Jun's most familiar state.
The 2015 crisis occurred before Xiaomi went public, and he had enough time and energy to deal with internal and external challenges.
However, after the listing, all the financial data were disclosed. Whether it was investors, employees or media public opinion, the star company and the wealth aura brought by the name Lei Jun were closely watched.
Lei Jun had to face more cramped space and adjust it as quickly as possible-hand-in-hand, constantly buying back shares, issuing equity incentives, and stimulating market and employee morale through a variety of means.
A Hong Kong securities industry official said in an interview with an interface journalist that Hong Kong investors are not very optimistic about this type of Internet new economic stocks. In addition, Xiaomi's previous business model has not been recognized by investors, and the economic situation is not In the good environment, the market's patience is low.
Lei Jun does not lack a successful experience. But now, he is more concerned about how to prove Xiaomi.
"starting a business is like jumping off a cliff. I'm 40 years old, and I can gamble again for my 18-year-old dream." Lei Jun once said in an interview that he founded Xiaomi for money, not for profit, not for vanity, just for dreams. Perhaps, there is a trace of disobedience and unwillingness in the heart.
He and other co-founders said it would be the last start-up in his life and possibly his last career.
How did Lei Jun get out of the current predicament? No one knows it now. But the only certainty is that Lei Jun will still choose to make himself All-in.
This article from the micro-channel public number: Interface News (ID: wowjiemian), Author: Fang Yuan Jing, Sun Wenhao
* the article is an independent point of view of the author, which does not represent the position of the tiger olfactory net. This paper is published by the tiger olfactory net authorized by the interface and edited by the tiger olfactory net. Reprint this article with the consent of the author, and please attach the source (tiger olfactory net) and links to this page. Original link: https://www.huxiu.com/article/308095.html
In front of the future, you I'm a child, and I'm not going to download the tiger's Sniff App.