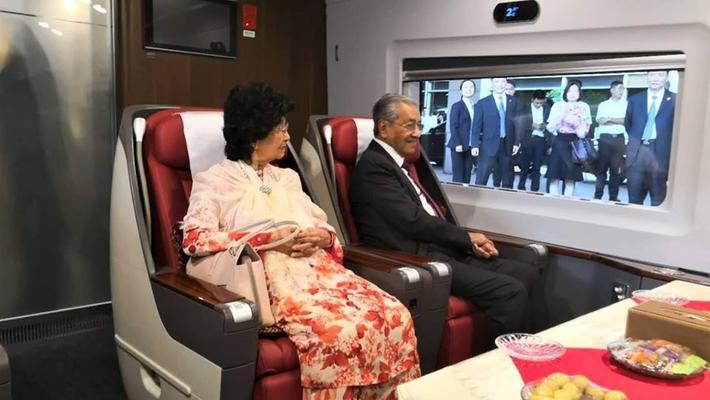 Malaysian Prime Minister Mahathir has visited China again. From 17 to 21 August, he paid an official visit to China. This is also the first official visit by Mahathir, who has just returned to power for three months, to non-ASEAN countries.
Mahathir served as Prime Minister of Malaysia for 22 consecutive years from 1981 to 2003. During his visit to China many times, the earliest one can be traced back to 1985. Mahathir, now 93, is known as China's "old friend."
Come to China again, for Mahathir, the happiest thing is to take a high-speed rail.
Mahathir, who was supposed to end his trip to Hangzhou on the 18th, temporarily changed his mind in order to get a ride on China's high-speed rail. At 7 p.m. on August 18, Mahathir and his wife Dunci Hasma arrived at Hangzhou East Railway Station and took the high-speed train to Shanghai. Mahathir's high-speed rail is the highest speed can reach 350 kilometers per hour, "Fuxing," he also felt the driver's seat, listened to the Chinese people on the Fuxing related explanation.
But despite feeling the speed of China's high-speed rail, Mahathir today (Aug. 21) personally announced a decision he had made before: the China-funded East Coast Railway (ECRL) and Sabah gas pipeline projects would be suspended.
Mahathir's high-speed train is the focus of attention because of Malaysia's dramatic history of high-speed rail decision-making.
History of High Speed Rail Decision-making in Malaysia
In 2013, Malaysia and Singapore plan to build the new Malaysia railway.
On May 13, 2015, the New Malaysia Railway Terminal was basically finalized, from Kuala Lumpur to Singapore, the railway is 350 km long. According to public information, about 90 percent of the sections are estimated to be located in Malaysia at a cost of more than 110 billion ringgit (178.7 billion yuan). The plan, which is open for tender in 2017, is expected to start in 2018 and complete in 2026.
After the construction of the high-speed railway, it is expected that the driving distance between the two places will be shortened from five hours to one and a half hours. It is undoubtedly a good thing for the people between Xinma and the tourism industry of Xinmatai.
In November 2017, then Prime Minister Najib of Malaysia launched a land acquisition process for the Singapore-Malaysia high-speed rail. At that time, China was expected to win a bid to take over the construction rights of the Singapore-Malaysia high-speed rail project.
The turning point appeared in May of this year.
Mahathir, who returned to power on May 10, said publicly on May 28 that the government had decided to cancel the new high-speed rail program.
The reason is mainly because the Malaysian government believes that the country itself has a debt of up to about 900 billion ringgit (about 145.83 billion yuan), while the high-speed rail has high input costs and long return on funds. Mahathir bluntly said that the project could not Let Malaysia earn a penny of profit."
Images from the Internet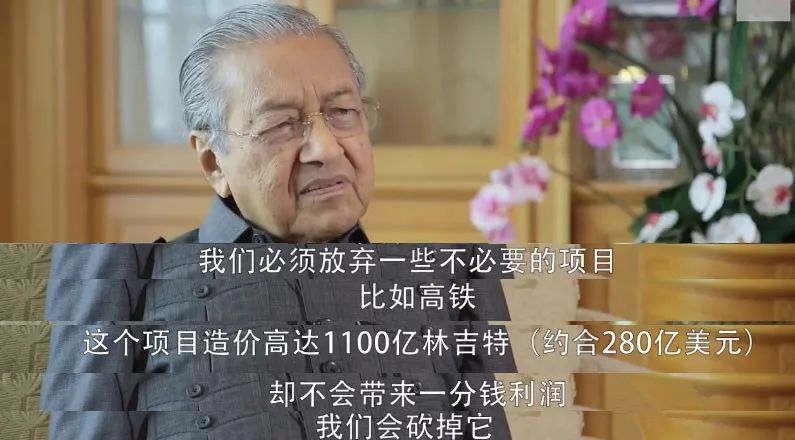 The drama is reflected in the turn of the road.
Less than a month later, Mahathir changed his tune again: either cancelled or postponed.
Mahathir said the new high-speed rail program is not cancelled, but postponed or reduced the size of the program. He said: "the government has extended its implementation and revisited the plan."
At the same time, the cancellation was changed from deferred to postponed, as well as the Chinese-funded high-speed rail "East Coast Railway Plan" mentioned at the beginning.
Data show that the Chinese-funded high-speed rail "East Coast Railway Plan" project was built by China, with a total investment of up to 55 billion ringgit (about 91.9 billion yuan). Now, Malaysia has cited "avoiding huge loans leading to financial deterioration." A stoppage was issued to China. Malaysia had already invested 20 billion ringgit in a Chinese-funded high-speed rail "East Coast Rail Project" at the time of the shutdown, according to Malaysian Finance Minister Lin Guanying.
It's all without money.
The Malaysia government cancelled the high-speed rail project because it did not have the money to change its postponement, but also because it had no money.
According to the calculation of " perspective Malaysia", once Malaysia cancels the Chinese eastern railway, the Malaysian government will face huge compensation of 22 billion ringgit ( about 35.8 billion yuan ). the key is that this figure is already close to half of the cost of the eastern railway. That is to say, if the high-speed rail project is completely cancelled, the Malaysian government will pay more compensation than the high-speed rail cost.
Therefore, the Malaysia government has changed its attitude towards high-speed rail.
In his article "Ma Yun, Sino-Malaysian Friendship Ambassador", Mahathir mentioned that Mahathir was very frank at the Chinese Entrepreneurs'Club Forum on the afternoon of the 19th. In response to the call for a halt to Sino-Malaysian high-speed rail cooperation project, he explained as follows:
In terms of borrowing, we are going to be a little bit more cautious about big projects because we don't think the previous approach is so good for our economy. Now the Malaysian government is borrowing not only from China, but also from other countries. The debt burden is actually very heavy. We have borrowed so much to pay off. Debt service has cost us a lot of capital resources, so Malaysia itself has produced a lot of wealth through its own economic development, much of it to pay off debt, so we want to be able to borrow smarter and borrow what is necessary. Less expensive debt.
Mahathir did not shy away from his lack of recognition of the behaviour of the former government.
The former government borrowed a lot of money, and we have faced great challenges in debt repayment. This is not a sensible foreign investment policy. I think we are not going to play money games. With money, we have to do a careful investigation before we borrow money, do feasibility studies, and ensure good foreign investment.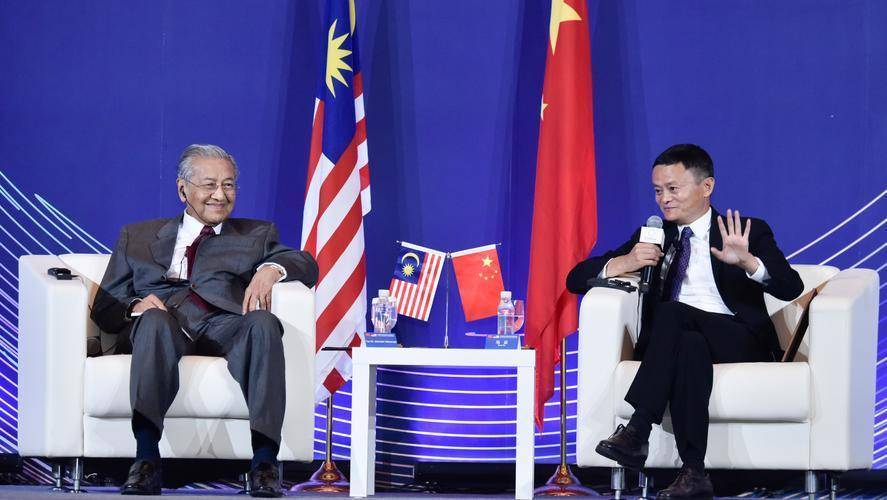 Where to go with the New Malaysia High Speed Railway
Mahathir came to China to take the high-speed rail, and Japan and China and even Europe have eyes of many companies.
Just before his visit to China, Mahathir also went to fukuoka, Japan, to inspect Jr Kyushu ( Japan's Kyushu railway company ) and visited the shinkansen simulator on August 7. Mahathir tweeted, " the shinkansen simulator is very accurate and can simulate the weather and the change of day and night. "
Japanese companies, such as JR East Japan, are the main competitors of China, South Korea and Europe in the Singapore-Malaysia high-speed rail project. So there are many explanations for Mahathir's actions: the Malaysian government may be inclined to cooperate with Japanese contractors, and China is "no longer a drama".
Then Mahathir came to China and reversed this perception. It is widely believed that there have been comments that Mahathir is taking the Chinese project. This time Mahathir came to China. We will ease the tension between China and Malaysia and try to restore friendly cooperation with Chinese companies.
Of course, some Japanese media said that Mahathir suddenly decided to inspect China's high-speed rail. It is likely that Chinese companies have lobbied. Of course, the biggest guess is Ma Yun.
At the very least, it seems that the Malaysian government should still be at the stage of measuring the capacity and technology of its partners, and of course, it may be the budget. As the tiger-sniffing article says, "The shrewd Mahathir may want to compete with the Chinese and Japanese high-speed rail companies in such a way that Malaysia will benefit from it."
"We may need to shrink or pause some projects because we can't afford them. These things have nothing to do with Chinese companies, because Malaysia itself has the need to scale back lending. " During his visit to China, Mahathir told Caixin on the 20th, "of course, we may later need to discuss all the details at the level of officials to officials. At the moment, we need to secure understanding at the top of China to make sure they don't misunderstand our anti-China stance. We do not oppose China, we hope to establish good and friendly relations with China. China can help us solve these problems. "
I can only say that.
After all, Malaysia's high-speed rail project is affecting the minds of many people, Mahathir's words and deeds will be interpreted by the outside world before the country restarts the project and the construction rights have not landed.
However, the trip to China is nearing the end. I don't know if I took a seat on Mahathir of China's high-speed train. Have you ever thought of any ideas?
* The article is an independent opinion of the author and does not represent the standpoint of Tiger Sniff. This article was authorized by Cuba Libre and edited by Tiger Sniff. com. This article must be reproduced by the author, and please attach the source (tiger sniffing net) and this page link. Original link: https://www.huxiu.com/article/258605.html
In front of the future, you and I are children, not to download tiger sniff App innovation!
Malaysia prime minister sit down take a trip high-speed rail stop shouting