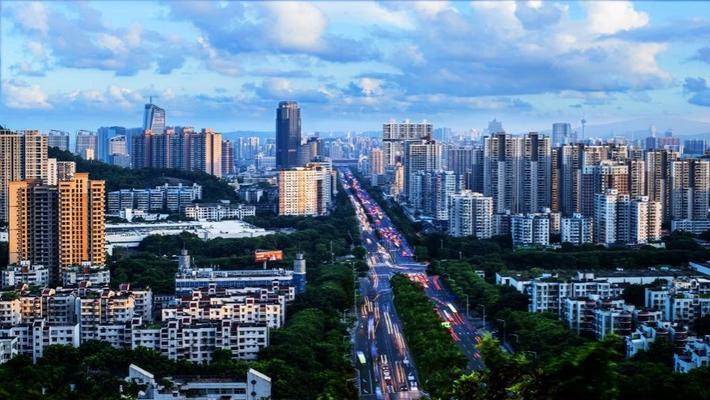 This article is from the WeChat public account: the correct solution (ID: zhengjieclub).
The Spring Festival holiday is coming to an end, and the nation's billion-class population will return to their jobs one after another. On the migration map of Spring Festival, Guangdong and Jiangsu are two dazzling points. Fifty to sixty million people inadvertently joined a "chase war" in Guangdong and Jiangsu.
In fact, Guangdong, Jiangsu between this economic contest, has been going on for nearly 40 years. Not only deeply affect the development of China, but also quietly shape the fate of countless people. This effect will continue for a long time in the foreseeable future.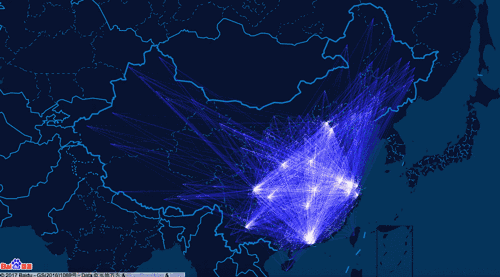 Migration map of Spring Festival
1. fabulously rich
When it comes to developed regions in China, most people think of two regions: the Pearl River Delta and the Yangtze River Delta.
The Pearl River Delta is basically a site in Guangdong. The Yangtze River Delta, Shanghai and Zhejiang performances are also dazzling in the country, but everyone is used to saying "Jiangsu, Zhejiang and Shanghai", Jiangsu is always ahead.
In fact, Guangdong had the country's first largest total GDP in 2018, followed by Jiangsu, the second largest in the country. If placed in the global scope, only then can discover Guangdong, Jiangsu's total economic volume horrors.
Guangdong's GDP reached 9.73 trillion yuan in 2018, or nearly $1.45 trillion in dollars. According to the IMF's October 2018 forecast for the world economy, Guangdong has overtaken Spain, Australia and other countries, pushing directly against Russia and South Korea, the top of Asia's four Little Dragons. Jiangsu's GDP also reached 9.26 trillion yuan, slightly lower than Australia's, more than 15% higher than Mexico. More simply, if you look at Guangdong and Jiangsu alone, they will be the 1316th largest economy in the world.
It is no exaggeration to describe Guangdong and Jiangsu with rich countries.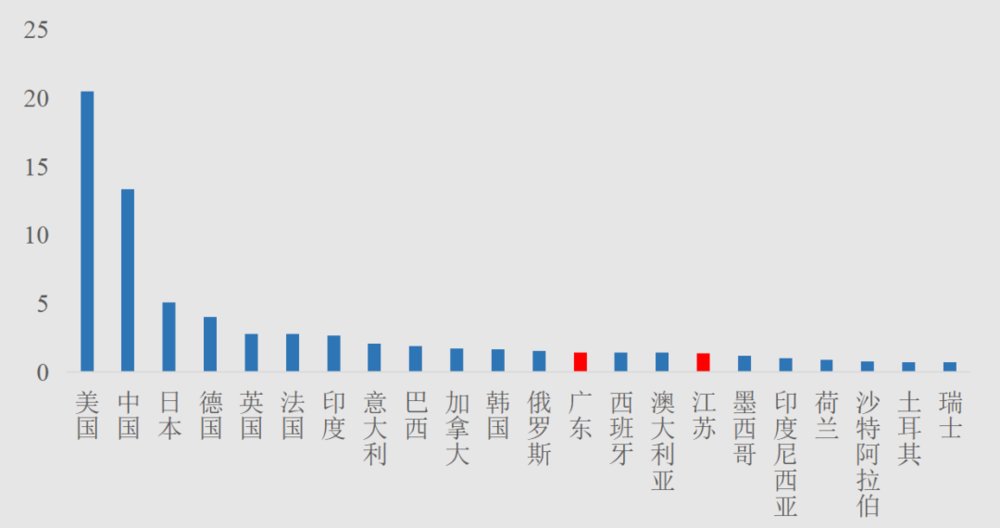 In China, Guangdong and Jiangsu are "two outs", and the two provinces have contributed nearly 19 trillion yuan of GDP, accounting for more than one-fifth of the national total. Moreover, the advantage for the latter provinces is very obvious, the third Shandong 7.65 trillion, the fourth Zhejiang 5.62 trillion, the fifth Henan 4.81 trillion. Moreover, the difference in economic growth rate is usually only a few percentage points.
It is foreseeable that China's economic structure will remain for a long time.
2. Guangdong: Swordsman
However, what is interesting is that the secret between Guangdong and Jiangsu has been nearly three or forty years, and it is completely called a "chasing war."
At the end of 1978, China rekindled the engine of economic growth. At that time, Shanghai was the eldest, but only 27.3 billion yuan, Jiangsu was second (24.9 billion), Guangdong was only 18.6 billion, ranking fifth in the mainland provinces and cities. The following year, Jiangsu successfully ascended to the top to become a "brother." By 1982, a dramatic scene appeared: Shandong overtook Jiangsu as the eldest, and Guangdong climbed from No. 5, one step at a time, to No. 3.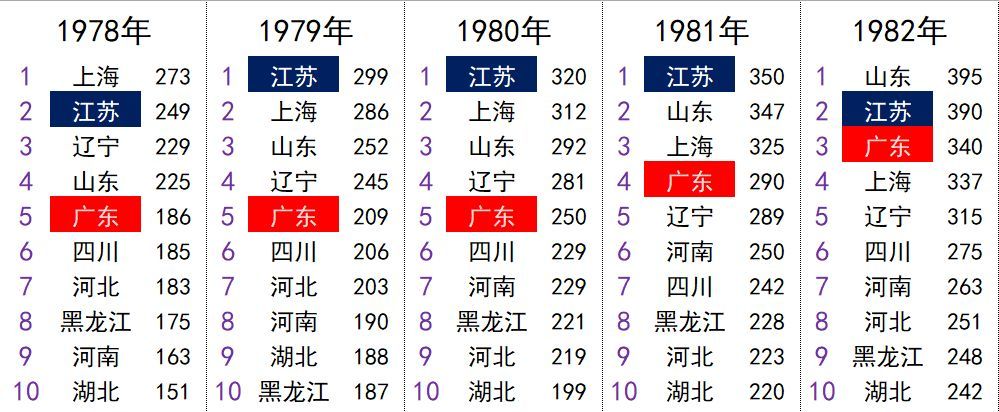 The next five or six years is a "mixed battle" between Jiangsu, Shandong and Guangdong.
By 1989, it had been a significant year for Guangdong, which, with a total economic output of 138.1 billion yuan, had removed Jiangsu from the throne of "one elder brother" and had topped the economic list for the first time. And, created nearly 30 years of the "dynasty": the status of the first no one can shake. Later, for Guangdong, the "rival" is no longer in the mainland. Guangdong overtook Hong Kong in 2003 and left Taiwan behind four years later.
Since then, in the 34 provincial administrative regions, Guangdong has no enemy.

And Guangdong smooth The Smiling、Proud Wanderer is different, Jiangsu's "river lake" status can be said to be hard-won. With Guangdong firmly at the top of the list, Shandong and Jiangsu launched a bitter "tangle" in order to take the second place. In the early 1990s, Shandong still had some advantages, but in the mid-1990s, in the "Suzhou Singapore Industrial Park," Jiangsu Province, represented by the county economy in southern Jiangsu Province, rose rapidly in 1993, surpassing Shandong Province. However, in 2004, 2006, Shandong began to hold a breath twice against Jiangsu. But in 2009, Shandong began a decade-long third status, and Jiangsu and the gap between the widening. The total gap with Jiangsu has widened from one or two percentage points to 17.5 percentage points. The gap is as high as 1.5 trillion, and the economic growth rate of Shandong Province is still lower than that of Jiangsu Province.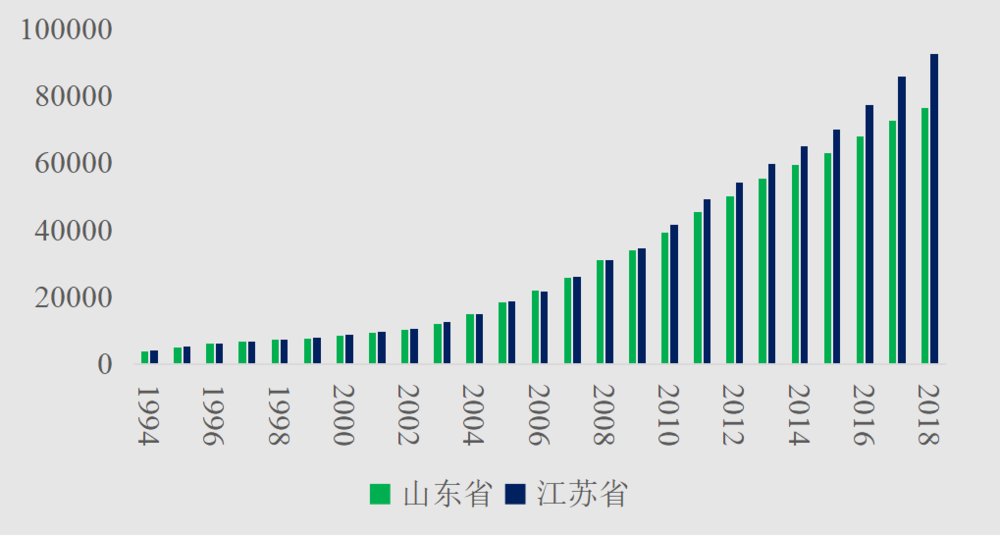 3. Jiangsu: catching up for 30 years
The battle situation has become clear: although Shandong is still the most powerful player, but the first-place war, has been the same as the Soviet-Guangdong dispute.
In 1989, after Guangdong overcame, Jiangsu began a difficult pursuit. In 1989, Jiangsu's GDP was equivalent to 95.69% of Guangdong, with a total difference of less than 6 billion. However, after 15 or 6 years, the Guangdong economy was unstoppable. The gap between Jiangsu and Guangdong reached 386 billion in 2004, less than 80% in Guangdong.
After that, Jiangsu began to gradually exert its strength, although the gap with Guangdong's total is still widening (up to 581.4 billion in 2008), but the proportion has begun to rise. In 2014 and 2015, Jiangsu's economic aggregate gap between Guangdong and Guangdong will be reduced to 270 billion. But then, there was another dramatic scene: Guangdong's tenacious three-in-one, in 2016, surpassed Jiangsu's 346.6 billion, and 2016's 383.5 billion, and by 2018 it has widened the gap to more than 470 billion.
Jiangsu, Guangdong's total relative level is almost back 30 years ago.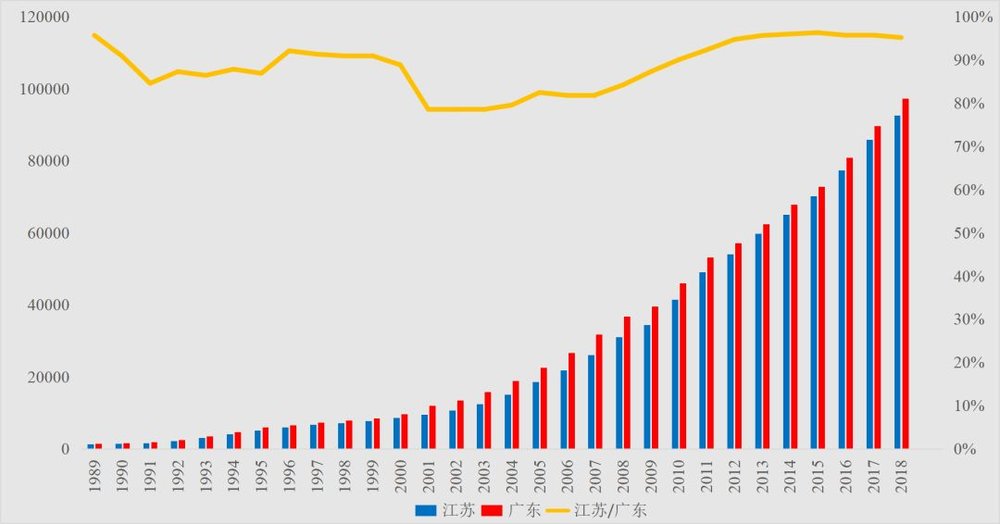 Comparison of GDP between Jiangsu and Guangdong in 1989
And deep a level of view, Guangdong can maintain the lead is not surprising.
First, Guangdong's basic economic conditions are better than Jiangsu's. Guangdong has an area of 179700 square kilometers and a population of more than 110 million, while Jiangsu has an area of only 107200 square kilometers and a population of just over 80 million. And modern economy is city economy to a great extent, just Guangdong has very big advantage in this respect. No matter the concept of "new line", but the recognized first-line city-north to Guangshen, of which, two (Guangzhou, Shenzhen) are in Guangdong.
Jiangsu's top two cities, Suzhou, Nanjing, Shenzhen and Guangzhou, are much smaller.
Preliminary data, GDP, Shenzhen exceeded 2.4 trillion yuan in 2018, Guangzhou 2.3 trillion yuan (China's GDP No. 16 Jiangxi less than 2.2 trillion).
By contrast, Suzhou 1.85 trillion and Nanjing 1.28 trillion.
At present, Guangdong already has two "2 trillion cities", but Jiangsu has not.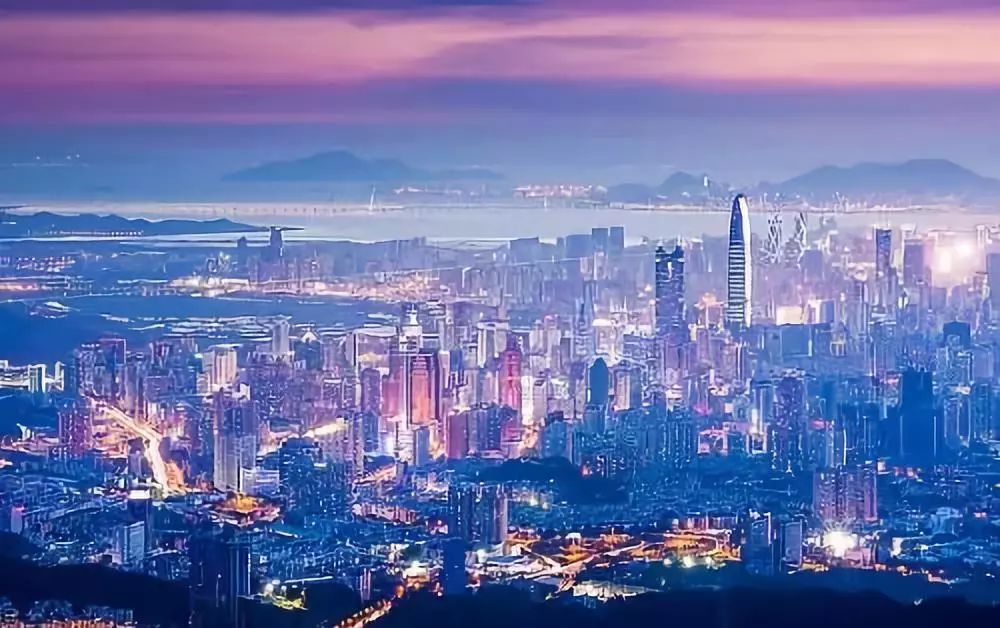 Shenzhen night view
4. Who is the first is not important
However, the chase war between Guangdong and Jiangsu is far from over, and it is also worth seeing.
Guangdong and Jiangsu are among the best in the country, but each has its own length. Although Guangdong has two "2 trillion cities", the balance of economic development is worse than that of Jiangsu. Jiangsu's thirteen cities have the smallest total economic output of 275 billion in Suqian, which is located in Guangdong. It ranks between Jiangmen and Shantou in 21 cities, ranking 11th.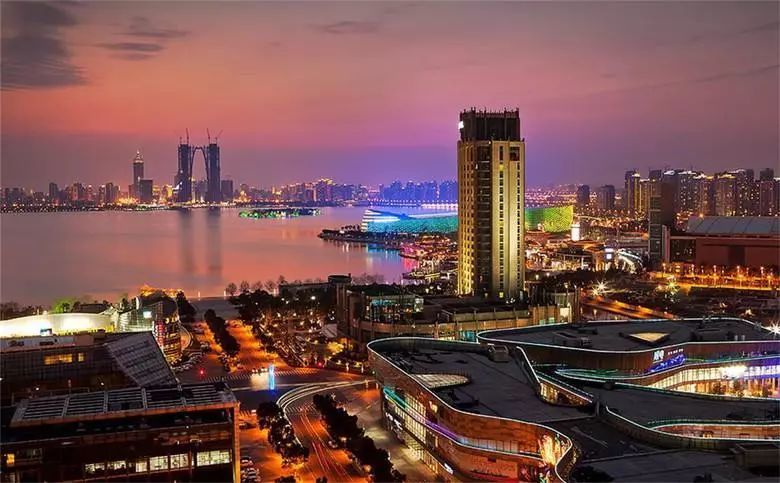 Night scene of Suzhou
From a per capita perspective, there are 15 cities in Guangdong that have a GDP per capita that lags behind the national average. However, Jiangsu has only Suqian and Lianyungang, which are slightly lower than the national average. Moreover, with Shenzhen as the representative, Guangdong is very eye-catching in the new economy such as science and technology and the Internet. It has a number of super companies such as Tencent, Huawei, BYD and Ping An.
However, the important source of scientific and technological innovation is the university. Jiangsu has 2 985 universities, 11 211 universities, and Guangdong has 2 985 colleges and 4 universities. As early as 2008, some people in Guangdong pointed out: there are only more than 30 academicians in Guangdong and 23 academicians in colleges and universities, while Nanjing University alone has more than 40 academicians.
In fact, so far Guangdong has not completely completed this short board.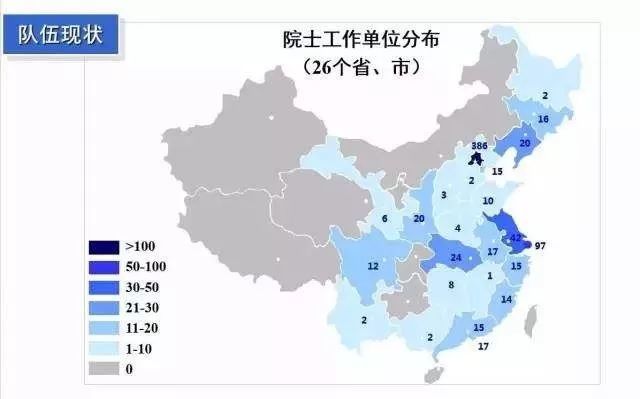 But economic development has never been a single fight.
Guangdong was able to lead the country in the late 1980s and maintain its first place in the country for 30 years. One of the important reasons is that Guangdong has introduced a large amount of foreign investment from Hong Kong and developed export trade. Today, the country launched the Guangdong, Hong Kong and Macau Bay Area strategy, targeting the New York Bay Area and the San Francisco Bay Area, and the Tokyo Bay Area of ​​Japan, hoping to build the world's fourth largest Bay Area.
In addition to Hong Kong and Macao, the other core areas of the Bay Area are Guangzhou, Foshan, Zhaoqing, Shenzhen, Dongguan, Huizhou, Zhuhai, Zhongshan and Jiangmen. Guangdong is undoubtedly an important implementer and beneficiary of this national strategy.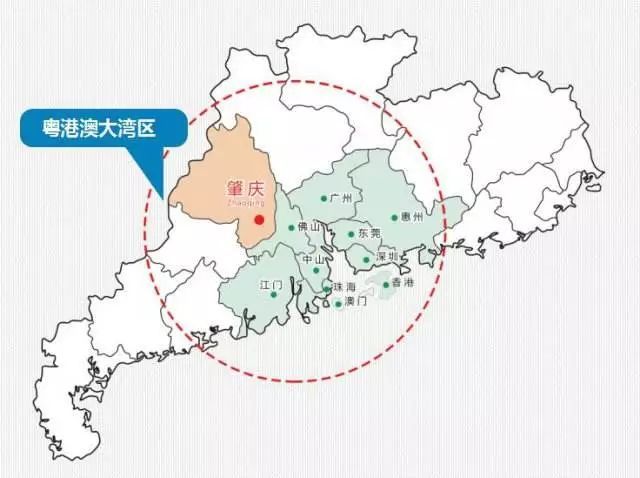 For Jiangsu, on the one hand, at the provincial level, it is proposed to raise the "first position" of the provincial capital Nanjing, hoping to create a super city that can be independent. On the other hand, the integration of the Yangtze River Delta has also risen to a national strategy. The three provinces and one city in the Yangtze River Delta (Jiangsu, Zhejiang and Anhui), with 350,000 square kilometers of land, 200 million people, 20 trillion GDP.
In the future, the development of Jiangsu also has a great imagination space.
But on a higher level, whether Guangdong continues to lead, or Jiangsu comes later, it is certain that competition brings vitality.
Shenzhen alone, in 40 years, let more than 8 million people take root here, become "first-class city" citizen. So far, Guangdong and Jiangsu also provide employment opportunities for 50 to 60 million migrants a year. There are thousands of people living in Guangdong and Jiangsu, taking what they have learned back to their hometown and doing their own work.
Keep up with each other, the economy will never stop moving forward, is to give ordinary people the greatest opportunity.
This article is from the WeChat public account: the correct solution (ID: zhengjieclub).
* this article is an independent opinion of the author and does not represent the position of the tiger sniff net. This article is published by the authorized tiger sniff net and edited by the tiger sniff net. Please indicate the author's name at the beginning of this article, maintain the integrity of the article (including tiger sniff note and other author identity information), and attach the source (tiger sniff net) and the link to this page. Original link: https://www.huxiu.com/article/284071.html is not reproduced in accordance with the norms, tiger sniff reserves the right to investigate the corresponding responsibility
In the face of the future, you and I are still children, not to download the Tiger Sniff App and sniffing innovation!