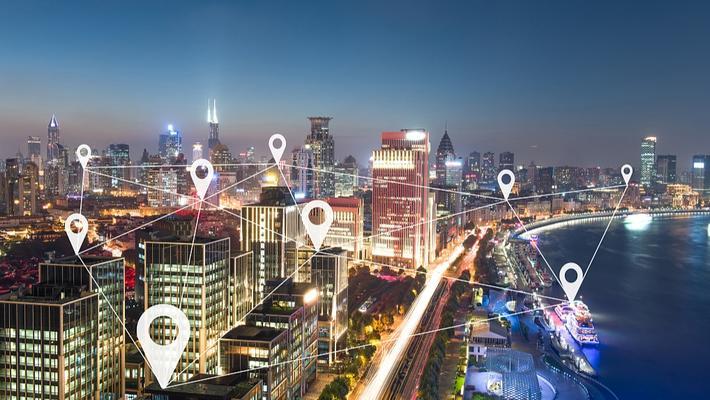 Over the course of a decade, Foursquare has experienced "internal and external troubles" such as team separation, difficult profits and shrinking valuations, but Foursquare's technology has become "ubiquitous". This article is from WeChat official account: geek Park (ID:geekpark). Author: Shen Zhihan, Editor: song Desheng. Source: visual China.
Ten years later, in Austin, USA, Crowley returned to the south-south-south stage with Foursquare.
New king
In 2009, Dennis Crawley (Dennis Crowley) and Navin Selvadule (Naveen Selvadurai) wrote the code for the first time in south-southwest with the location check-in app Foursquare. On the original version of Foursquare, users can share location information with friends and track each other's whereabouts.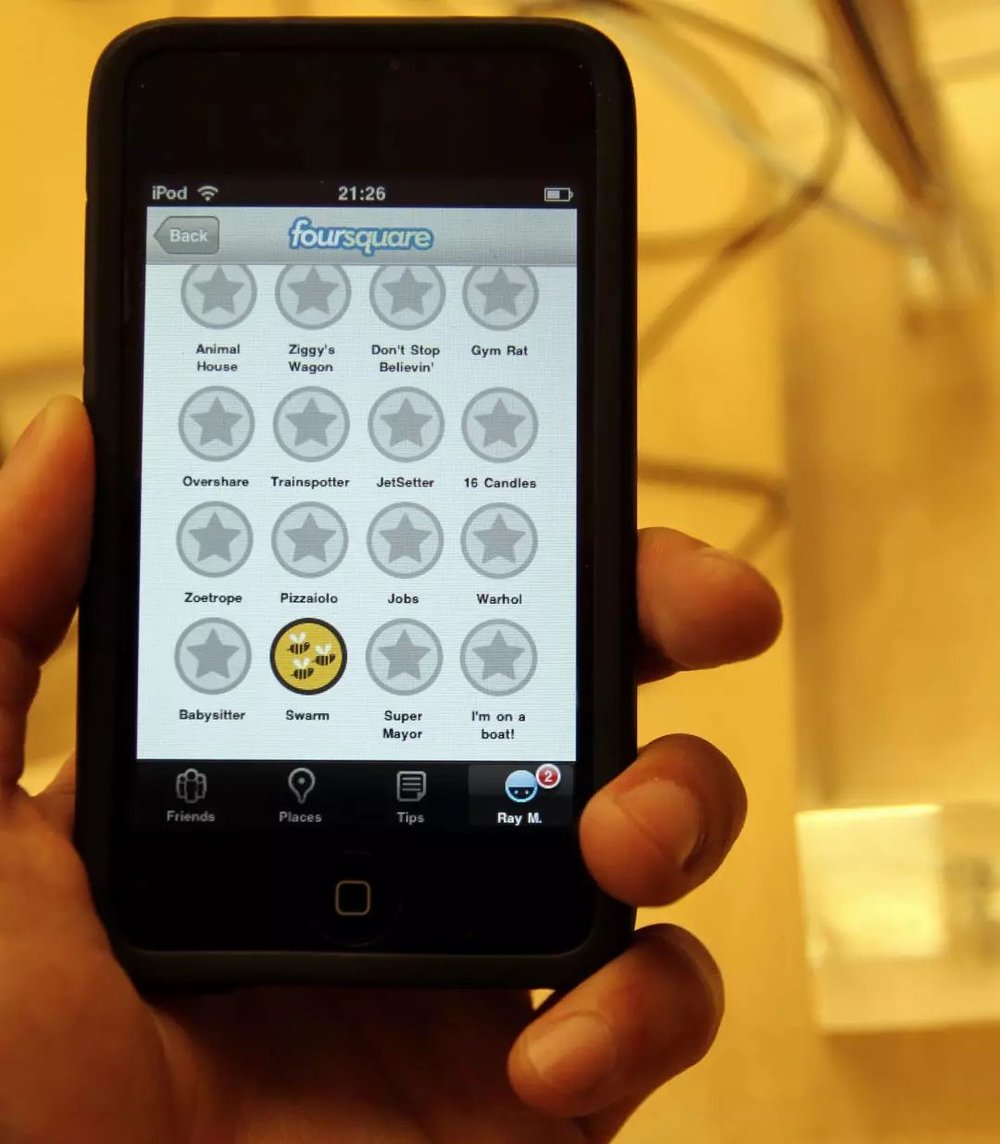 Foursquare application
That year was a very novel feature, and the two founders and Foursquare became so popular that they were once seen as the "next tweet" on the south-southwest.
"I was very upset before Foursquare was released," http://t.cn/EMjzXNj), Crowley recalled in an interview with Fast Company. Because Foursquare 1. 0 is a bit like a city guide game with badges, there's a lot of stuff mixed up. We thought users would think it was stupid, but we didn't think they liked it. Foursquare is much better than we expected. "
At that time, the user "loved to die" this application for positioning and signing with a mobile phone. Less than a year after its founding, Foursquare has reached 1 million users. By June 2011, the number of users exceeded 10 million. As of 2011, according to the official news of Foursquare, the number of sign-offs outside the United States has reached 358 million (http://t.cn/EMjZPBx).
Investors painted more imagination for Foursquare. Six months after its release, Foursquare received its first round of funding. In June 2010, Foursquare received $20 million in B-round funding. Crowley, wearing a crown on the British cover of Wired magazine with the title of The New King of Social Media ('s new king on social media, was the best time for Foursquare. Advertisers take a look at a product that can pinpoint a user's personal interests, and overnight the, LBS (Location Based Services) check-in pattern is being imitated.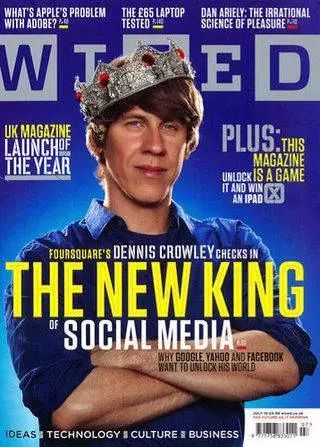 Crowley appears on the cover of the British edition of Wired magazine, photo from BI
However, Foursquare will soon usher in a period of user growth. In 2013, the number of Foursquare users reached 30 million. But since then, the number of users has not increased significantly, with 30 million users checking in only 5 million times a day. In 2012, Foursquare's full-year revenue was only $2 million. Every quarter fell short of market and company expectations. Foursquare's vision of converting location data into real gold and silver has not come true.
Trapped into transition
In 2012, Crowley perfected the Foursquare functionality, with more emphasis on destination search and discovery as a tool application, in addition to check-in.
But the all-inclusive "hodgepodge" is increasingly confusing to users, is it a game app for badges, or a local life search app for Yelp?
Business Insider (http://t.cn/EMjwtIG) previously reported that Crowley once regarded Foursquare as a full-featured "Swiss Army Knife", but he later realized that lack of focus on product features actually hurts Foursquare.
"with social products such as Instagram,Twitter and Snapchat becoming increasingly popular, Foursquare's check-in capabilities are becoming less and less attractive to people." "but there are still a lot of people who want to use search and a lot of people want to check in," Crowley told Fast Company. So we separate this product, and each product has a clear purpose. "
In 2014, Swarm was spun off as an application with independent sign-in capabilities, and Foursquare focused on local living services. Crowley also said in an interview: "In fact, what Foursquare wants to do is never a better check-in button."
Foursquare, which raised $33 million in October 2018, has dented investor confidence as it has long been caught up in slow user growth and uncertain earnings prospects. The last funding was three years ago, when Foursquare raised $45 million, valued at $300 million, after four years, when Foursquare was valued at $760 million.
However, Crowley said in the past five years, the company has clearly recognized that the future can not be fully bet on the advertising business model for C-end users. Instead, companies must build revenue models for businesses and brands based on licensed location data, tools and technologies.
Foursquare has opened up another way to commercialize.
The client application embedded in the open interface (Pilgrim SDK), developed by Foursquare can sense the mobile phone in and out of a place even if the user does not check in and understand the user's location data better. According to data from CEO Geoff (Jeff Glueck), who took office in 2016, Foursquare's developer tools, including Pilgrim SDK and Places API, were available in early 2018. Pinpoint Advertising now covers more than half of AdAge100's advertisers. In 2017, Foursquare grew revenues by 50 percent or more for the third year in a row.
Top wind crime
Ten years later, Crowley returned to the south-southwest stage with Foursquare in Austin, the United States.
This time, Foursquare has a new feature-Hypertrending (Real-time Thermograph). On the new Foursquare, users can view the distribution of people in cities in real time, such as each point representing a different place, each point size corresponding to the number of people in each place, and each color representing a different type of place. Follow Foursquare's heat drive, and you know where to gather the most people, where to have the hottest events and parties.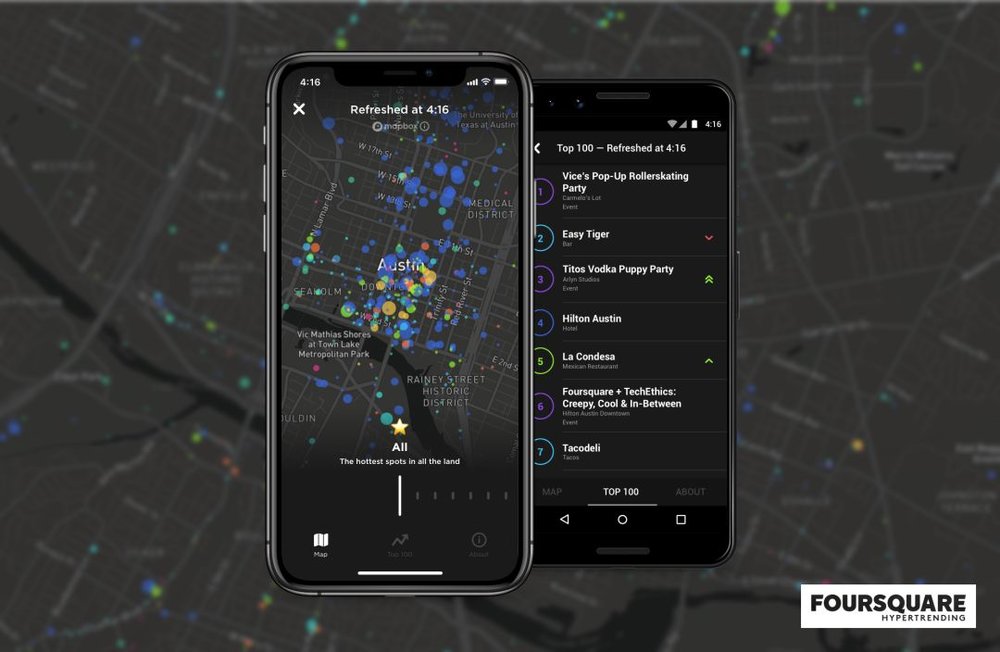 Hypertrending screenshots
To be clear, this is a function of collecting user location data. In Silicon Valley tycoons who are sensitive to privacy data, Foursquare is "at the mercy of the wind". But Foursquare did not treat itself as a special case. "We know that this new feature of Hypertrending is controversial," Crowley said. As a result, the use of new features is also limited to the Austin area during southwestern activity.
In introducing the thermographic features developed on the basis of Pilgrim technology, Crowley did not show the developers what technical upgrades this new feature had, nor did he talk about future product release plans. Because of the sensitivity of location data, Crowley only sees the short release of the new feature as an attempt to build trust with users. "We want to get users' ideas and feedback on Hypertrending, because it involves a broader discussion of transparency, mature leadership, and ethical behaviour that technology companies need to have," he said.
Data privacy has become a roadblock in front of technology companies. For Foursquare, which has been doing business for ten years of location data, gaining user trust is an important step in its future development.
Http://t.cn/EMjwmjA),Foursquare will remain anonymous and aggregate the data before it can be made available to its partners, Crawley said. In terms of user agreements, Foursquare will make the terms and conditions of the user clear and clear. Inside Foursquare, there are data known as hidden category (hidden category data, such as chemo centers, divorce law firms, and so on, and Foursquare does not use these unethical data to trade.
For its own partner, Foursquare has set up an ethics committee to review the company and find out where the tracking data is ultimately used. Crowley said the ultimate goal is to let users decide how data is used, what data is used for what, and what data is ethical. This is also the purpose of testing Hypertrending.
Over the course of a decade, Foursquare has experienced "internal and external troubles" such as team separation, difficult profits and shrinking valuations, but Foursquare's technology has become "ubiquitous". "A lot of users will say, I don't use Foursquare anymore." "but users checking in on Twitter, using Geofilters (geolocation-based filters) on Snapchat, or using Tinder Places, are using Foursquare-based services," Glouk said.
From To C's check-in app to To B's location service provider, "We're still doing something beyond the limit." Crawley wrote in his blog.
This article is from WeChat official account: geek Park (ID:geekpark). Author: Shen Zhihan, Editor: song Desheng. Source: visual China.
* The article is the independent view of the author, does not represent the position of the tiger sniffing net. This article was published by the geek park © Authorized by Huwei.com and edited by Tiger Sniffing. Reprint this article, please indicate the author's name in the text, keep the integrity of the article (including the tiger sniffing and other authorship information), and please attach the source (Hua Sniff Network) and this page link. Original link: https://www.huxiu.com/article/288875.html If the person is not reprinted according to the rules, the tiger sniffs the right to pursue the corresponding responsibility.
In front of the future, you and I are still children, do not download tiger sniff App sniff innovation!
Foursquare Silicon Valley Entrepreneurship Golden Boy Travel Survival