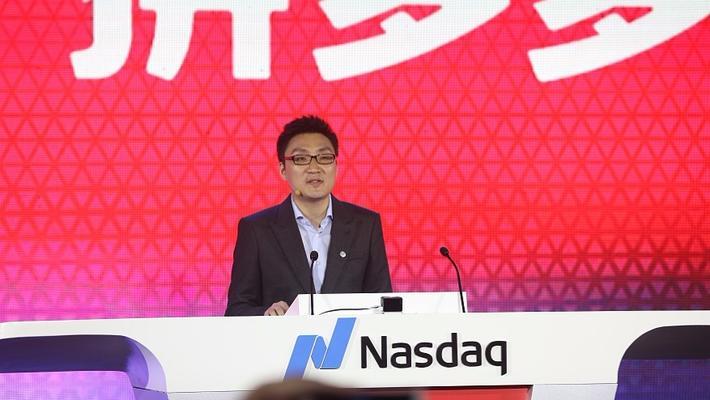 Map from Visual China
Several star companies that were newly listed in 2018 are making financial reports one after another. Today is the turn of the fight.
Overall: Q4 in 2018, pinduoduo's revenue was 5.6539 billion yuan, up 37.9 percent from 1.1794 billion yuan in the same period ended 2017, and 68 percent higher than the previous quarter. Full-year revenue of 13.12 billion yuan, up 652% year-on-year. Surpassing Wall Street's forecast for pinduoduo's Q4 revenue at $789 million (5.3 billion yuan) and for the company's full-year revenue forecast at $1.87 billion (12.56 billion yuan).
In Q18, in 2018, the operating loss was 2.649 billion yuan. In 2018, the operating loss generated by the IPO one-time calculation of employee equity incentives was 10.797 billion yuan, and the operating loss of non-GAAP platform was 3.958 billion yuan. .
What is the specific record of the next fight?
GMV, "looks beautiful."
The most eye-catching number is GMV. In 2018, the number of GMVs reached a total of 471.6 billion yuan, a year-on-year increase of 234%, which is quite impressive.
In fact, a lot of 2018 GMV data was announced when the $1 billion financing announcement was announced in January. Today, with the release of the financial report, Huang Wei once again emphasized this data: "2018 is a year of strong growth and a milestone year. Since its inception, the company has always placed service users first. The rapid growth of the user community and GMV confirms the unique value created by the platform. At the same time, the needs of users are constantly changing, which also motivates us to continue to innovate and progress."
From the trend of a lot of GMV, it is really congratulatory.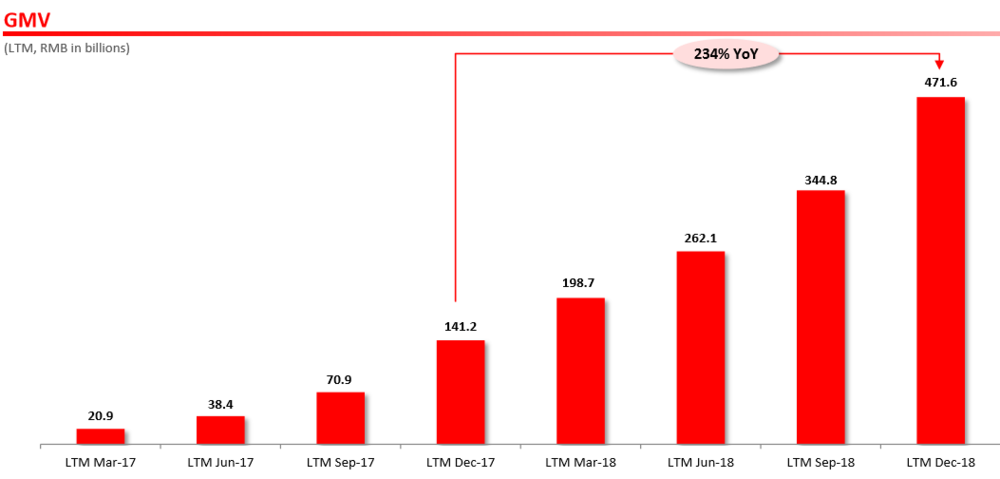 But here's a reminder that GMV has a very awkward situation. Tiger sniff research director Eastland has said more than once that the value of this indicator is very low.
First, GMV is not GAS data, and auditors are unable to effectively verify it; moreover, existing e-commerce platforms vary greatly in statistical methods, with some simply being kept secret and lacking horizontal comparability. So the GMV data just looks beautiful.
Then, the number of monthly active users and daily active users are also used to measure the achievements of ecommerce platforms.
The number of monthly active users remains stable.
According to the financial report data, as of December 31, 2018, the number of active buyers of the platform was 41.85 billion, an increase of 173.7 million compared with 244.8 million in the same period last year. In Q18, in 2018, the number of monthly mobile users of the platform mobile client reached 273 million (excluding users accessing multiple platforms through social networks and access portals), an increase of 132 million compared with 141 million in the same period last year, nearly doubled; The chain increased by 42 million, which is higher than the number of new monthly users of 37 million in the previous quarter.
A lot of monthly work still maintains rapid growth.
In terms of year-on-year growth, however, Q4 has slowed significantly from the previous quarter (225 percent year-on-year for Q3 and 495 percent year-on-year for Q2). In terms of month-on-month growth (18.2%), it was almost the same as the previous two quarters, and overall growth remained stable.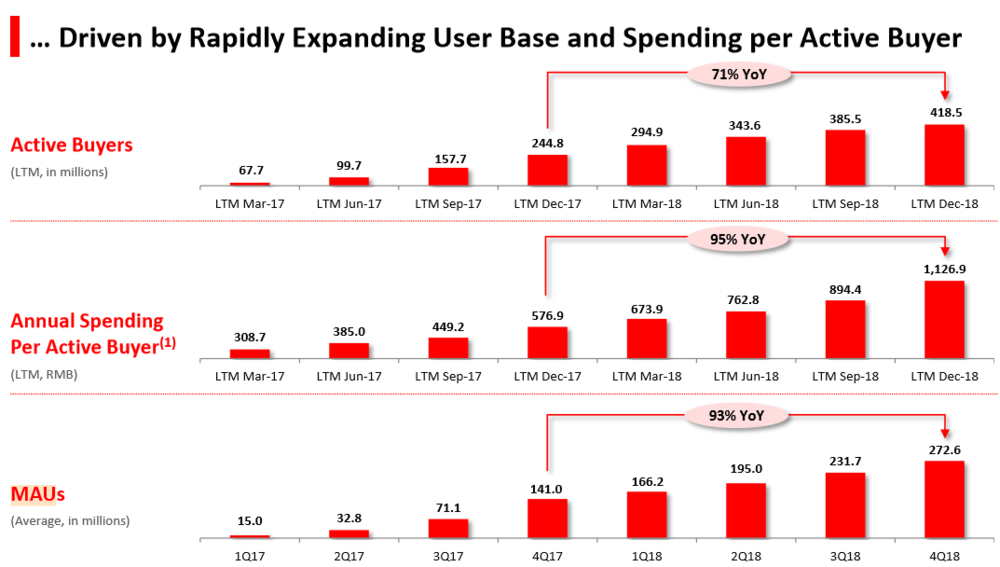 And Pingduo's number of monthly active users should also put a lot of pressure on Ali and JingDong: this figure already accounts for 65.8% of Ali's monthly active users; JingDong has only 305.3 million active users in the past 12 months.
However, in this financial report, there is not much disclosure of specific DAU (Day Live).
Growth in the financial report, as well as a lot of losses and cost.
The loss went up another step.
Like Meituan, who just issued his report card a few days ago, the loss is still the "bug" pinduoduo has yet to escape: 2018 Q4 and the full year, Pinduoduo's operating loss has expanded again.
In the fourth quarter of 2018, pinduoduo's operating loss was 2.6409 billion yuan, compared with 22.7 million yuan in the fourth quarter of 2017. Non-GAAP operating losses reached 2.1129 billion yuan, compared with 10 million yuan for the same period in 2017.
For the whole of 2018, the operating loss resulting from one-time employee equity incentives including IPO was 10.7997 billion yuan, while the operating loss on the platform under non-American general accounting standards was 3.9583 billion yuan. Among them, including the "third Anniversary", "double 11", "double 12" and other consecutive Q4 quarter, the platform operating losses of 2.6409 billion yuan, non-GAAP loss of 2.1129 billion yuan.
One of the other reasons for the loss of this year is the increase in cost.
Much of the money was spent on marketing. Pinduoduo's sales expenses in 2018 were 13.4 billion, up 900 percent from 1.3446 billion yuan to 13.4418 billion yuan, much higher than Pindao's revenue growth rate.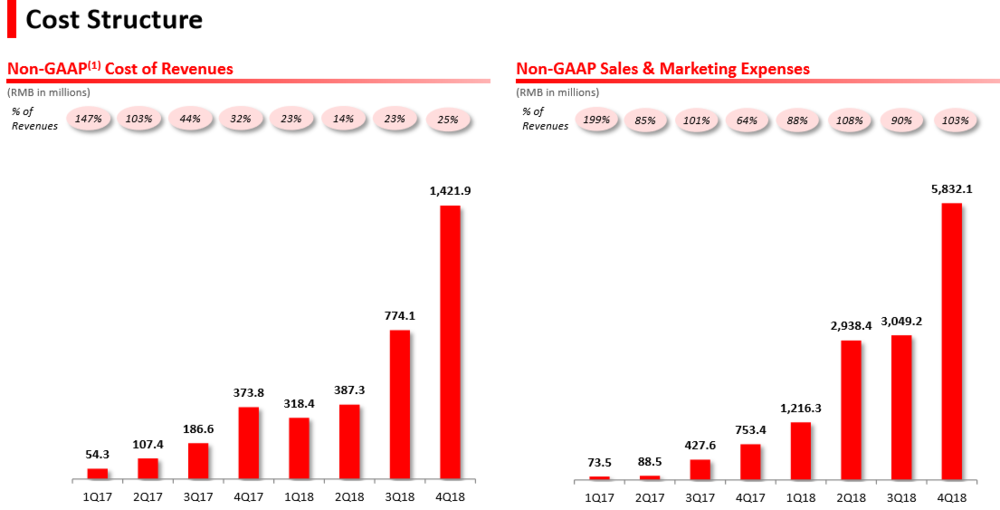 Other cost scenarios are: the cost of the fourth quarter is 1.424 billion yuan, up 281% from 374 million yuan in the same period of last year and 84% from 774 million yuan in the previous quarter. The financial report explained that the cost increase was due to the increase in the cost of cloud services, call centers and other services.
In addition, pinduoduo Q4 management costs of 322 million yuan, compared with the same period last year, 11.6 million yuan also has a significant increase. Meanwhile, pinduoduo invested 1.1161 billion yuan in research and development in 2018, an increase of 764 percent over 2017.
How far is it from "the second largest ecommerce platform"?
Just before the earnings report, UBS had issued a forecast to preheat its report card.
In UBS's assessment, pinduoduo, a 2.0-generation e-commerce platform, has become China's second-largest ecommerce platform and will continue to grow at a high rate. UBS forecasts that in 2021, Pindao's annual active users will reach 628 million, the same number as that of Alibaba Group at the end of 2018. GMV will catch up with JingDong to reach 2.07 trillion yuan. In 2023, the average annual consumption of more than one user will reach 3823 yuan, surpassing the current level of JingDong, represented by the high passenger unit price.
Morgan Stanley also pointed out that pinduoduo's management of fake and shoddy products was firm and effective, and the platform sold high-priced goods well above market expectations. Meanwhile, the long track record and continued strong growth have dispelled concerns about the sustainability of pinduoduo's innovative business model.
And people have not forgotten that at the end of January this year, pinduoduo's market value was 31.838 billion US dollars, at one point exceeding JingDong.
Regardless of whether it is from the perspective of capital or the above-mentioned data that is popular and interesting, it seems that there should be a breakthrough in Jingdong, which has become the "China's second largest e-commerce platform" under Ali.
However, UBS is still a little exaggerated.
Strictly speaking, pinduoduo at this stage is only an e-commerce platform with the embryonic form of e-commerce. Some people say that pinduoduo is like Ali ten years ago. It can even be said that pinduoduo is much stronger than Ali ten years ago. However, the times are moving, pinduoduo's management of the supply chain, merchants and users, the mastery of the logistics system and the operation of online payments, etc., are far from the same level as Tmall, Taobao and JingDong.
Under the platform mode, the management of the supply side is a great system engineering. Ali managed Taobao and Tmall for many years, from the management of third-party merchants to the classification of sellers to all transaction records, which formed a huge data accumulation and analysis system. In this respect alone, pinduoduo still needs to do a lot.
In addition, it is still another matter whether the current users can accept the impressions of "low price", "spelling group" and "consumption downgrade". It is still unknown whether a lot of spells can "drive into the five rings."
Based on the results of the past two or three years, UBS's linear forecast of the future performance of the company is not convincing. From the development of Ali and JD. It can be seen that the development of an e-commerce platform is cyclical and arrives at a After the stabilization period, the growth rate like a person's height will drop until it stops growing.
For example, here is a simple question: After solving many problems such as supply chain, logistics, and platform image, as a "growth" e-commerce platform, where is the future competitiveness of Ali and JD?
Investment banks are the players in this game. The criteria for making predictions must be the maximization of their own interests.
The market also had the most direct reaction to the results: just before the results were released, the stock was up more than 6 percent in pre-market trading, but then plummeted, falling more than 7 percent at one point.
As of press release, pinduoduo's market value fell more than 17.45%, market capitalization fell below the $29 billion mark.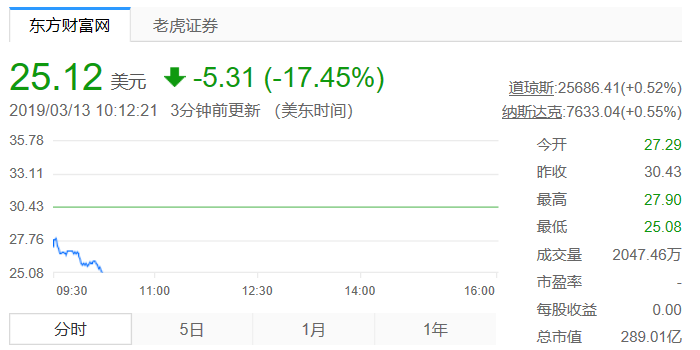 In the subsequent conference call, some analysts asked about the market competition in this year and in the next few years. Huang Wei said:
We have noticed that more companies are starting to focus on the market in small and medium-sized cities and are trying to emulate many business models, and I think competitors will expand the market by doing so. In addition, the more attention to small and medium-sized cities, the more they will weaken the scale of offline trading in these cities, which had previously been the main trading channel in these places, resulting in healthier growth in consumption. Because most of pinduoduo's users are from small and medium-sized cities, our business is to meet these needs, through interesting and social shopping, to provide affordable goods, we look forward to benefiting from this market. The company will continue to focus on these value positions, rather than extending its reach to many other businesses like some others, such as selling irrelevant products, prematurely seeking commercialisation, financial operations, and so on. At this stage, we are also fortunate to be able to adhere to our existing value positioning, customer-centric.
In order to build the momentum for pinduoduo, Huang Zheng once again took out his strong circle of friends. Huang Zheng announced that pinduoduo will set up a technical advisory board, former Microsoft Global Executive Vice President, now founder of YC China, an independent director of pinduoduo, and vice chairman of Baidu's board, Dr. Lu Qi, who will lead the work of the technical committee.
Huang Zheng mobilized all the resources so that pinduoduo could grow. Huang Zheng and pinduoduo also have many opportunities. But on the way to becoming China's second-largest e-commerce platform, pinduoduo has to continue to "fight."
* the article is the author's independent point of view, does not represent the position of the tiger olfactory net this article by Liu ran authorized tiger olfactory net published and edited by the tiger olfactory net. Reprint this article with the permission of the author, and please attach the source (Tiger sniffing net) and this page link. Original link: https://www.huxiu.com/article/288873.html
In front of the future, you and I are still children, do not download tiger sniff App sniff innovation!
Last year the loss 4 billion fight thanks to become e-commerce