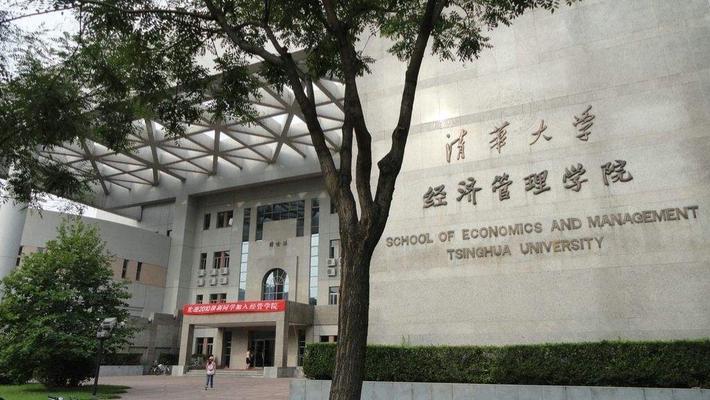 Tiger Smell Note: Recently, 34 students from Tsinghua University's General Command went bankrupt due to poor management through a restaurant that was jointly funded. According to this article, the high-priced seminar in Tsinghua University is characterized by high tuition fees, some of which cost more than 700,000 yuan, while others cost 29800 yuan a little less. However, why can dozens of students open restaurants in partnership after learning various advanced knowledge such as strategic planning, model construction, enterprise management, marketing and team building? This article is transferred from national business daily, author: Zhaoyun, editor: He Xiaotao.
According to the Beijing Haidian Court, 34 students of the president's class of Tsinghua University recently filed for bankruptcy with the Beijing Haidian Court through a crowdfunding restaurant because of poor management.
""
The company that filed for bankruptcy was established in December 2014. It is a non-listed company established by crowdfunding members of the mobile social group. Mainly engaged in a theme restaurant located near the East Gate of Tsinghua University.
""
WeChat people raised a company and went bankrupt due to poor management.
According to Haidian Court Net, the debtor said -
""
The idea of ​​setting up a company was originally initiated in the WeChat group. There are about 120 members in the group. They are all students from different classes of Tsinghua University President's Senior Training Course from 2007 to 2013.
At the time of the company's initial establishment, there were 31 shareholders, all of whom signed the Registration Form for Shares of Natural Persons / Corporate Persons in the Crowded Financing Project of Tsinghua President's Guild, and later increased to 34 shareholders, while the later 3 shareholders signed the Agreement for Shares, during which some shares were transferred.
""
The company's registered capital is 6.8 million yuan, 34 shareholders subscribe 200000 yuan, the proportion of shares are 2.94.
Since its opening in 2015, the restaurant has been in a state of loss. Although it has adjusted its business model several times during this period, it has still failed to turn a loss into a profit. It has now stopped operating and has applied to the court for bankruptcy by resolution of the board of shareholders.
According to the statement of property status and the list of debts submitted by the debtor, the company's assets are only 5000 yuan in surplus account funds, and more than 20 items of negative debts amount to more than 300 million yuan. In addition, there are more than 100 customers who have handled the recharge card fees that have not been returned.
""
At present, the court has appointed an administrator and will further clean up the debtor's assets, creditor's rights and debts according to law.
""
Which restaurant is near Tsinghua?
""
Although Haidian Court Network did not name the restaurant, the conspicuous label of "President's Class" and "Equity Crowdfunding" is not difficult to find clues on the Internet. A daily economic journalist search found that this poorly-run theme restaurant was called "Hua Qing Yuan".
The most direct evidence, of course, is that its business information fits well with the previous description. According to the Baidu Encyclopedia entry, Huaqingyuan (Beijing) Catering Co., Ltd. was founded by 31 members of the Tsinghua President Development Promotion Association ("Qinghuihui") in the form of equity crowdfunding.
""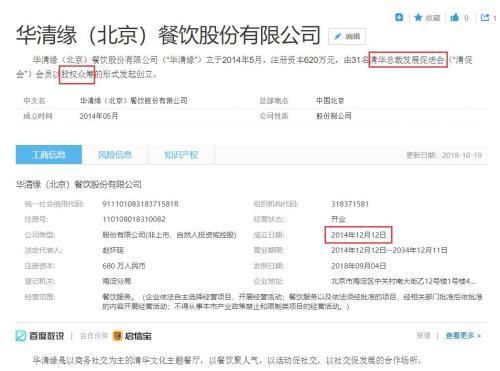 The company's shareholder structure also happens to be 200,000 yuan subscribed by more than 30 shareholders.
""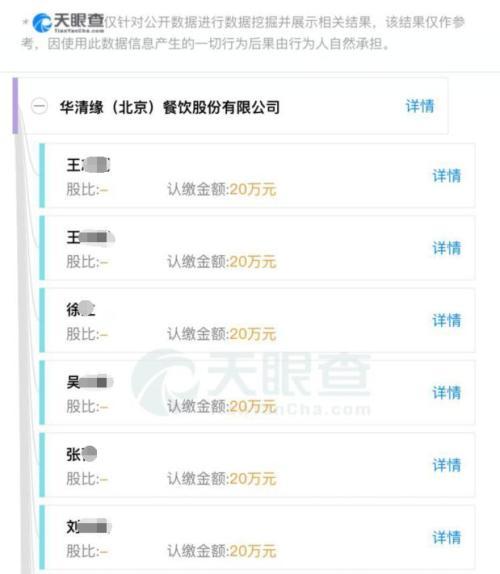 The company's partial ownership structure map ( picture source: cut from the sky )
In January 2015, when Hua Qing Yuan theme Restaurant opened, the official website of "Qing Promotion Association" introduced the grand occasion at that time.
""
" More than 150 leaders, guests, shareholders, classmates and representatives of cooperative organizations from all over the country have jointly witnessed this important moment. "
""
"the restaurant is located on the third floor of Huayuan Century Commercial Building, 88 Shuangqing Road, Haidian District, only 100 meters from Tsinghua East Gate and Tsinghua Science Park. The restaurant has an area of 1166 square meters, 216 dining spaces, 9 deluxe private rooms, a banquet hall for more than 100 people, and an exhibition hall for tea drinking and leisure, exhibition and salon. "
" Restaurant dishes are characterized by new Hunan dishes and creative fusion dishes. They are not only delicious and delicious, ranging from exquisite snacks, special cooking dishes, raw seafood, nourishing soup to fine abalone wings and ginseng, but also focus on exploring and shaping the cultural connotation and health-preserving function of dishes and creating Huaqing - yuan series of dishes and supporting services featuring value, health and culture. "
""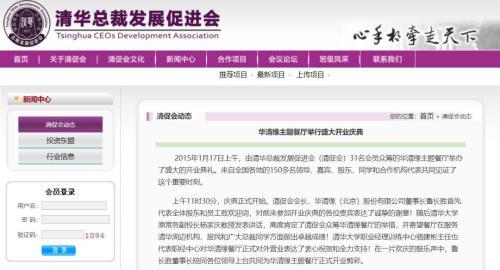 According to its official website, the Qing Dynasty Promotion Committee was officially established in Beijing on March 14, 2012, under the guidance of Tsinghua University Vocational Manager Training Center. It has investment and financing, real estate, medical and health care, cultural tourism, textile and clothing and other professional and industrial cooperation committees.
On Dianping, the full name of Hua-Qing Yuan Restaurant is "Little Kitchen of South Hua-Qing Yuan." A recent customer comment took place in November 2017. The current store status is "suspended display," and the reason is now known to everyone. It was the poor management that led to closure.
""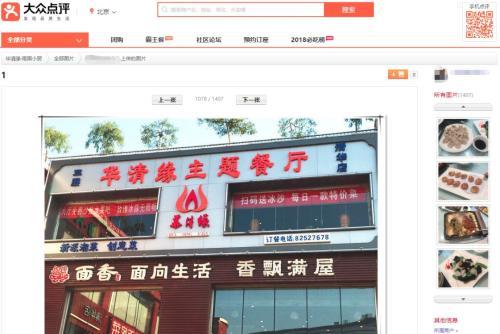 A user uploads a photo of a restaurant posted by Dianping in August 2015 (photo source: Dianping official website)
Reporters repeatedly tried to call the restaurant phone provided on the public comment, and the automatic voice prompt was " Welcome to Call Huaqing Yuan Theme Restaurant …", but no one answered.
""
Then, in addition to the disclosure of Haidian Court Network, "always in a loss state, although the business model has been adjusted several times during the period, but still failed to turn losses into profits" and specific property conditions, is there any more details of "poor management"?
""
A judgment obtained by a reporter from the adjudicative documents network shows that:
""
In 2017, Huazhingyuan defaulted on a supplier of nearly 40,000 yuan for alcohol, which filed a lawsuit with the Haidian District people's Court in Beijing in February this year. In June this year, after the first instance judgment on repayment by Hua-Qing Yuan Company, Huaqing Yuan Company filed an appeal. By August this year, the Beijing No. 1 Intermediate people's Court rejected the appeal and upheld the original judgment.
""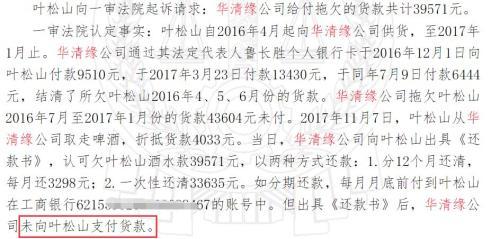 Photo source: from the adjudicative documents we
In addition, according to Tianyan's information, in February 2015, the restaurant was subject to administrative punishment by Haidian Food and Drug Administration and fined 5000 yuan. In March this year, Huaqing Yuan Company was declared a faithless company by the Supreme People's Court.
""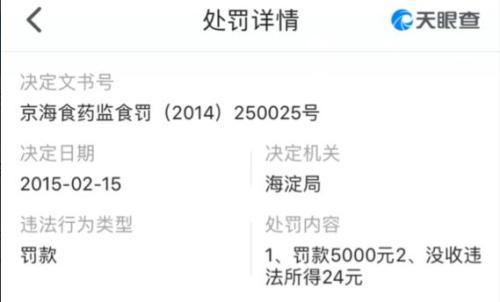 Image source: Intercepted from the sky
Internet comments
The south wind does not rise at night: three monks have no water to drink. Not to mention 34? Value stroll: Wang Jianlin said, what Tsinghua Peking University, is not as bold. Now I also tell you, what Harvard Yale, you dare to break into arrangements now understand: is crowdfunding a successful business model? It'seems to be the reverse of business school. There is still a big gap between the theory and practice of Daily:, a friend of time, but we can't completely identify the president's class. I hope they can succeed in zr Yuxin next time: one class of students, not all of them high achiever, It proves that the master leads the spiritual practice in the individual. Taiji Zhang: the president of Tsinghua University opened a restaurant bankruptcy, this problem is worth studying, only the university sign is not very good, business strategy, market strategy, management landing ability are worth considering.
In fact, the president's class is not part of academic education, but it is better known as MBA or EMBA.
""
Compared to the general professional master's degree, EMBA and MBA fees are higher. According to CCTV's 2016 report:
Some workshops in areas such as corporate management, financial investment, real estate, and so on, seem to be very high-end, mostly with the name of excellence, elite, president, and some classes are preceded by the names of famous schools.
""
A common feature of these high-priced seminars is that they are expensive, some are more than 700,000 yuan, and a little cheaper is 29,800 yuan. One or two years of schooling, two or three days of classes per month, count down, average one day. Tuition fees range from more than 800 yuan to more than 16,000 yuan.
""
However, why can dozens of students open restaurants in partnership after learning various advanced knowledge such as strategic planning, model construction, enterprise management, marketing and team building? This is really a question worth pondering.
* The article is an author's independent point of view, does not represent the position of the tiger sniffing net. This article was published by the Daily Economic News © Authorized by Huwei.com and edited by Tiger Sniffing. Reprint this article subject to the author's consent, and please attach the source (虎 sniffing net) and the link on this page. Original link: https://www.huxiu.com/article/268894.html
In the future, you and I are still children, not to download the tiger sniffing app, screaming and innovation!
Tsinghua chairman of the class 34 students students public raise open restaurant guess what bankruptcy